Please note: This Tesla screen only supports connecting to smartphone Bluetooth and Tesla Original Bluetooth, can't support unoriginal third-party device contact customer service for external needs before purchasing.
Brand
Binize 
Type
Tesla Screen for Rear Entertainment Climate Control

Wireless CarPlay

Yes

Wireless Android AUTO

Yes

Bluetooth

Yes

Size
7 Inch

Power Input / Output

5V——1A

Car support
Tesla Model 3/Y

Phone support

iPhone 6 and newer, ios 10 and newer


Android phone with android 11 and newer
Eye-catching Features:
Specially Designed - customized design for Tesla Model Y 2020+ and Model 3 2017+, which includes a rear touch screen. Additionally, it is suitable for use with both Intel and AMD chips in Tesla vehicles.
Climate Control - The Tesla Screen for Model 3&Y seamlessly integrates with your Tesla's OBD port, providing rear seat passengers with entertainment and convenient control over various aspects of the vehicle, including temperature, wind speed, sound volume, and rear heated control.
Day & Night Mode - The interface of the device automatically switches from day mode to night mode whenever the headlights are turned on.
Plug And Play - The installation of this

Tesla Screen

does not require any drilling, and it won't cause any damage to the interior of your Tesla Model 3 or Model Y.
🚦【Wireless CarPlay on Tesla Screen】: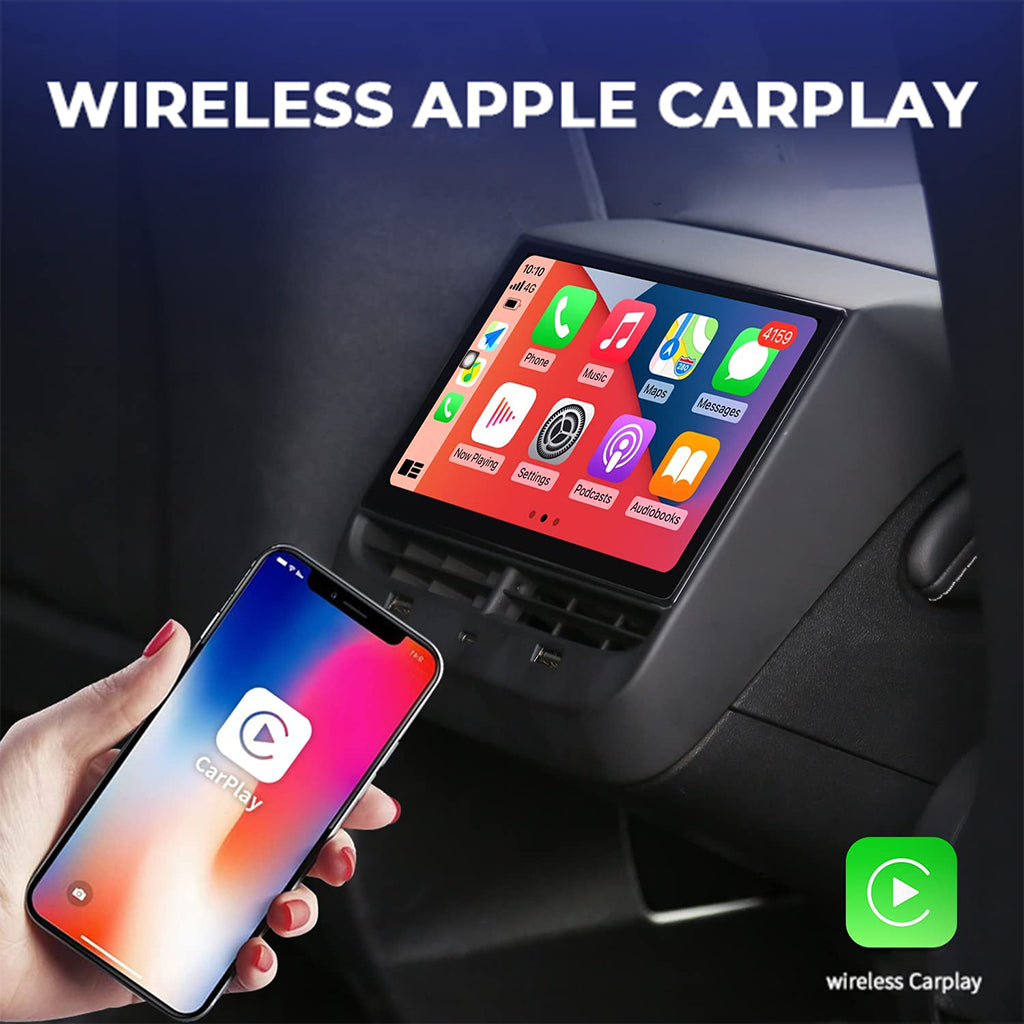 🚦【Air Condition Control】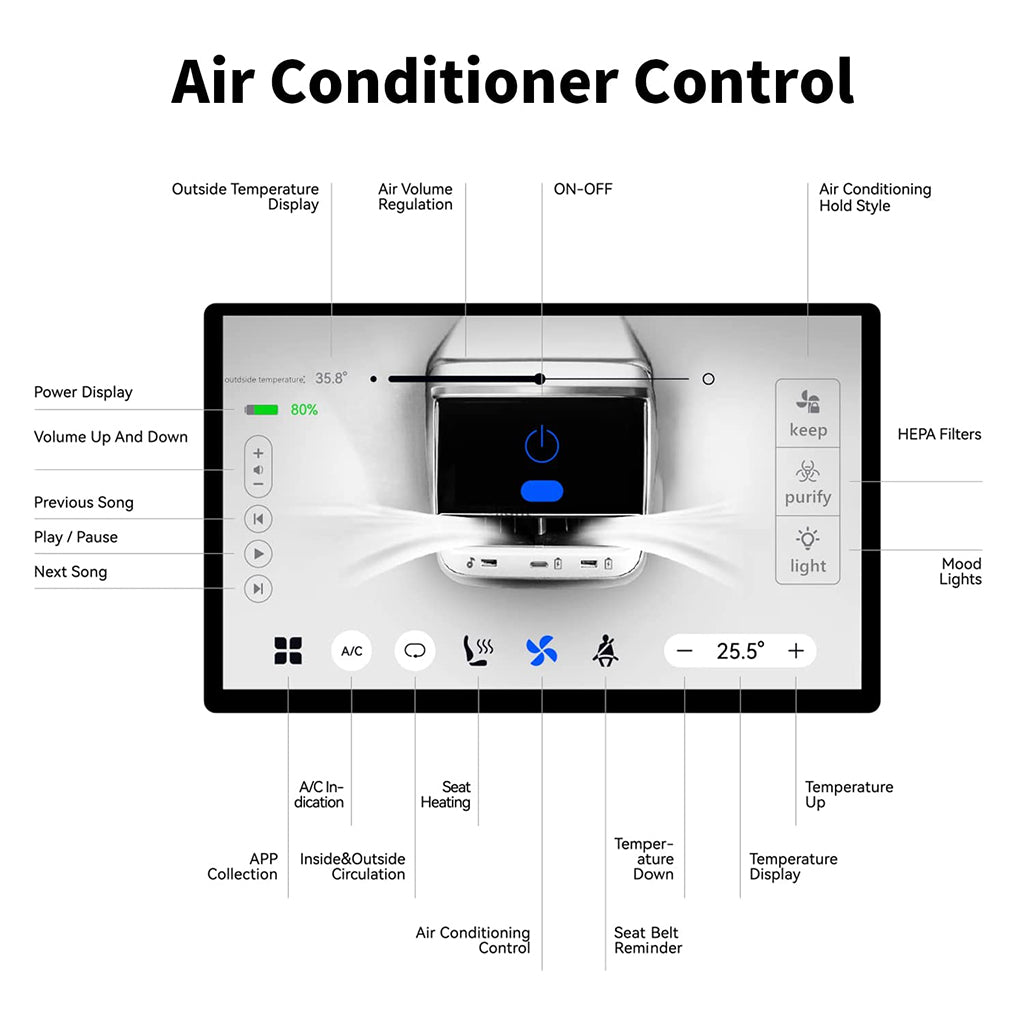 🚦【Day & Night Model】: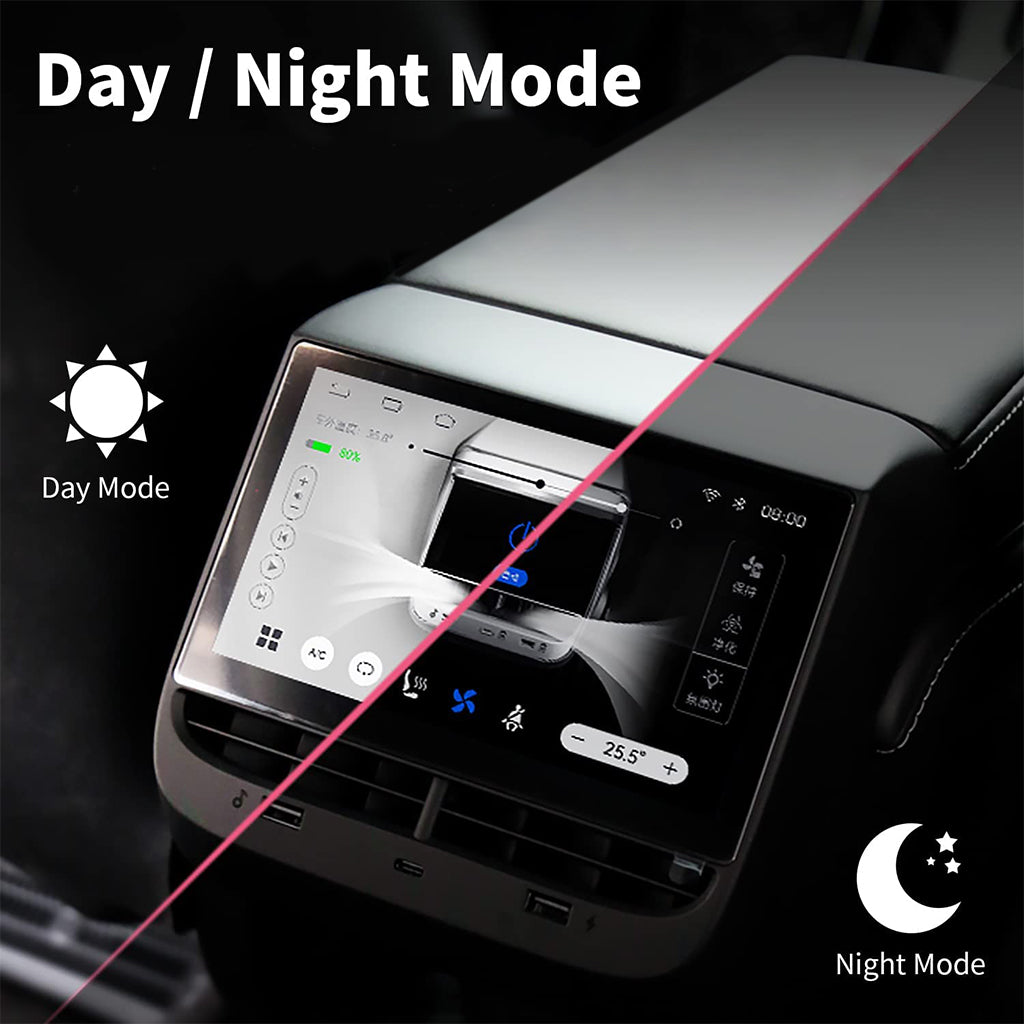 🚦【IPS HD Tesla Screen 】: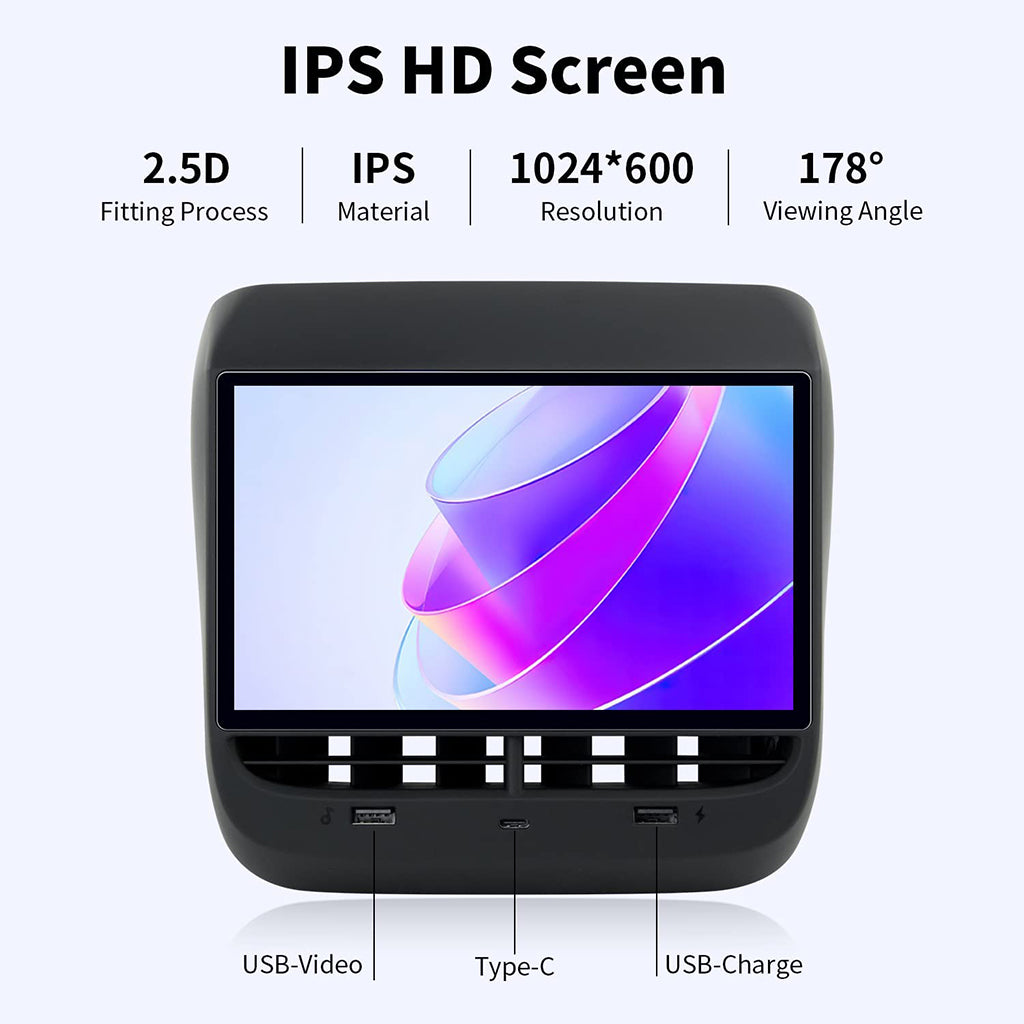 Binize Tesla Screen C

onnection Steps: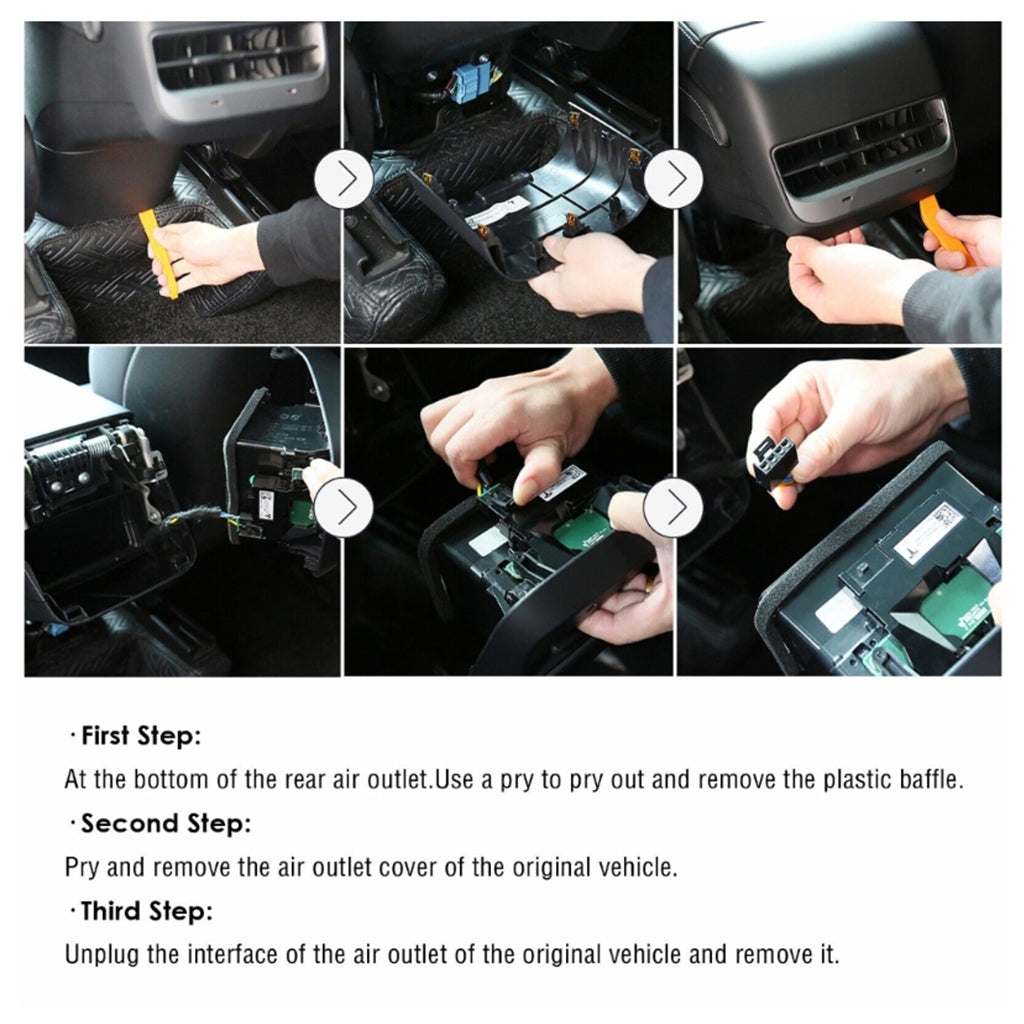 Find the bottom of the air conditioning vent.
Remove the plastic kit with a pry bar.
Remove the original air conditioning vent parts.
Remove the original air conditioning component socket and plug in Binize new Tesla Screen.
Plug in the wire harnesses according to different interfaces directly.
Install new Binize Tesla Screen.
NOTE:
AC hold mode: The air conditioner will continue to operate in its current state when the screen is turned off and turned back on again.

Air purification mode: This mode effectively neutralizes pollutants in the car's air, including radioactive gases, particulate matter, and second-hand smoke.

Ambient lighting mode: When activated, the ambient lighting will illuminate the car's interior, and when turned off, the lighting will be disabled.
Q&A
Q: How to get power display on this Tesla Screen?
A: Hello from Binize, to access the main interface, simply click the power icon located on the homepage. The main interface features a digital display of power, as well as a battery graphic display.
Q: How to adjust the passenger seat on this Tesla Screen?
A: Hello from Binize, when any button on the right-hand side is pressed, the seat indication will activate and display in red. The seat indication will disappear once the interface is switched. During the adjustment process, press and hold or press briefly to move the seat and backrest forward and backward.
Q: Does this come with installation tools?
A:  Hello from Binize, Binize package includes a pry bar. To be honest, both the dismantling and installation processes are very simple and non-destructive. Plug and play wiring harness is a piece of cake.
Q: What is this for?
A: Hello from Binize, I believe that there must have been some problems with using the map of the Tesla system, as well as some cases of not being able to check your iPhone message anytime and anywhere easily. 
The Tesla screen loads your usage habits directly onto your Tesla car, making it easy to use CarPlay, Android Auto and control AC in your car.
Please Note:
1- We provide free shipping services.
2-On the day you submit the order, we will send out your goods, you can check the logistics update information after 5 nature days.
Transport process
1-3 nature days for processing
Use China Post to send goods (free shipping), you can also choose to pay the postage and choose faster air freight, such as DHL, UPS, FEDEX.
Take the United States as an example. The last mile will use USPS to deliver the goods to your address. According to local conditions in other countries, international freight companies will choose the best quality method

3- If there are taxes and fees incurred during the contractor's process, It's the customer's responsibility to cover all the taxes

4- The following transportation methods are air transportation. The reference time to reach the United States is 15-25 days, and the time to reach Europe is 20-30 days. For other countries and regions, please contact customer service.

5- 60 days to return and exchange the goods.
 China Post Free shipping reference time (natural day)
North America
Transportation

 

Nature day
United States
13-25 days

FREESHIPPING

Canada
13-25 days

FREESHIPPING

Mexico
18-35 days

FREESHIPPING

Europe
Transportation Nature Day

 

UK, France, Germany, Italy, Spain, Netherlands, Austria, Belgium, Bulgaria, Switzerland, Czech, Denmark, Estonia, Finland, Greece, Croatia, Hungary, Ireland, Lithuania, Luxembourg, Latvia, Malta, Poland, Portugal, Romania, Sweden, Slovenia, Slovakia, Ukraine

20-30 days

FREESHIPPING

Oceania
Transportation Nature Day

Australia, New Zealand

20-30 days

FREESHIPPING

Asia (Middle East)
Transportation Nature Day

UAE

20-30 days

FREESHIPPING




Cyprus

20-30 days

FREESHIPPING




Israel

20-30 days

FREESHIPPING




Saudi Arabia

20-30 days

FREESHIPPING




Turkey

20-30 days

FREESHIPPING



Africa
Transportation Nature Day

South Africa                                                                     

18-35 days

FREESHIPPING
 We provide a faster shipping method, of course, this requires you to pay.
 Country

DHL, UPS, FedEx 

Australia, New Zealand

29.99$ 

7-15 natural day

United States, Mexico, Canada

29.99$

8-20 natural day

Jersey, Croatia, Lithuania, Latvia, Luxembourg, Czech Republic, Slovenia, Liechtenstein, Sweden, Switzerland, Monaco, Austria, Andorra, Malta, Portugal, Greenland, Norway, Slovakia, Cyprus, Hungary, Canary Islands, Italy, Guernsey, Spain, Greece, Bulgaria, India, United Kingdom, Netherlands, Belgium, Iceland, Gibraltar, Poland, Ireland, Denmark, Germany, Estonia, France, Finland

29.99$

4-11 natural day

Egypt, Israel, Jordan, Bahrain, Afghanistan, Turkey, Oman, UAE, Saudi Arabia, Libya, Kuwait, Qatar 

29.99$

6-14 natural day