Brand

Binize

Output power
RCA output 1.4V
Operating voltage
12~24V
Bluetooth version
Version 5.0
CPU
8268K
Run memory
64M
The display resolution
1024x600
Size
7 Inch Apple CarPlay stereo
Navigation

Apple CarPlay navigation

Size
178*118*22MM
Smartphone
Compatible with Apple CarPlay & Android AUTO
Built-in USB
Phone link
Extension USB cord: Phone charge it
Audio output
White: Audio Out Left
Red: Audio Out Right
The main function

1.  Radio transmit frequency:  FM 87.5MHz to 108.0MHz
2.  SD card & USB flash drive reading(music/video/image)
3.Bluetooth function (handsfree Bluetooth phone calling & wireless Bluetooth music)
4. Two RCA  jacks are compatible with the subwoofer
5. Phone connection: Compatible with Apple CarPlay & Android AUTO; Support smartphone MirrorLink


6,Binize 7 Inch Coral vision portable wireless Apple car play screen /android auto GPS Navigation, Touchscreen Multimedia Player intellidash car radio, google assistant device, Bluetooth 





Keywords

#Apple car play #Apple CarPlay #Apple CarPlay navigation #Apple CarPlay stereo

 #Car play screen #Coral vision CarPlay #Intellidash #Portable android auto #Android auto Navigation #Portable Android auto Stereo Portable Carplay Radio

 #Portable CarPlay #Wireless android auto #Wireless Apple CarPlay

 #Wireless car play #Wireless CarPlay #Portable Car Radio #Portable Car Stereo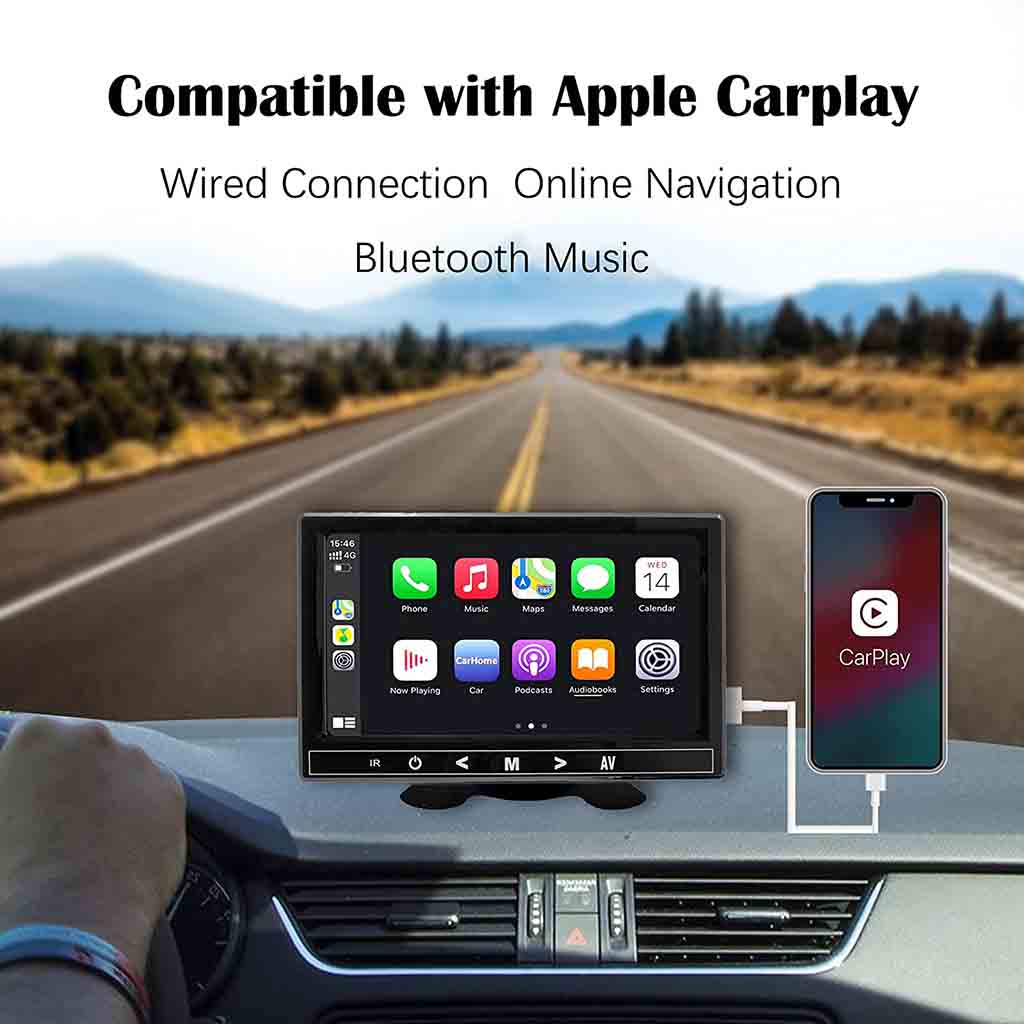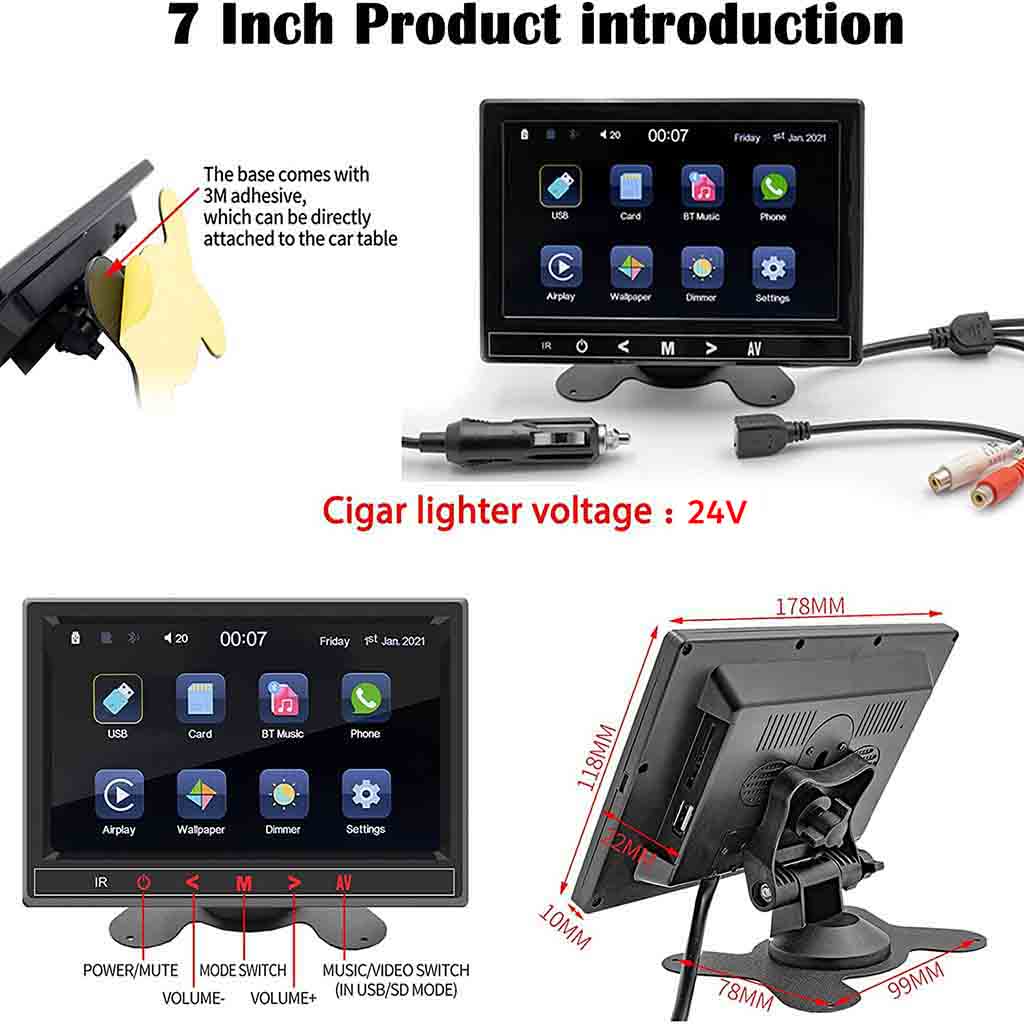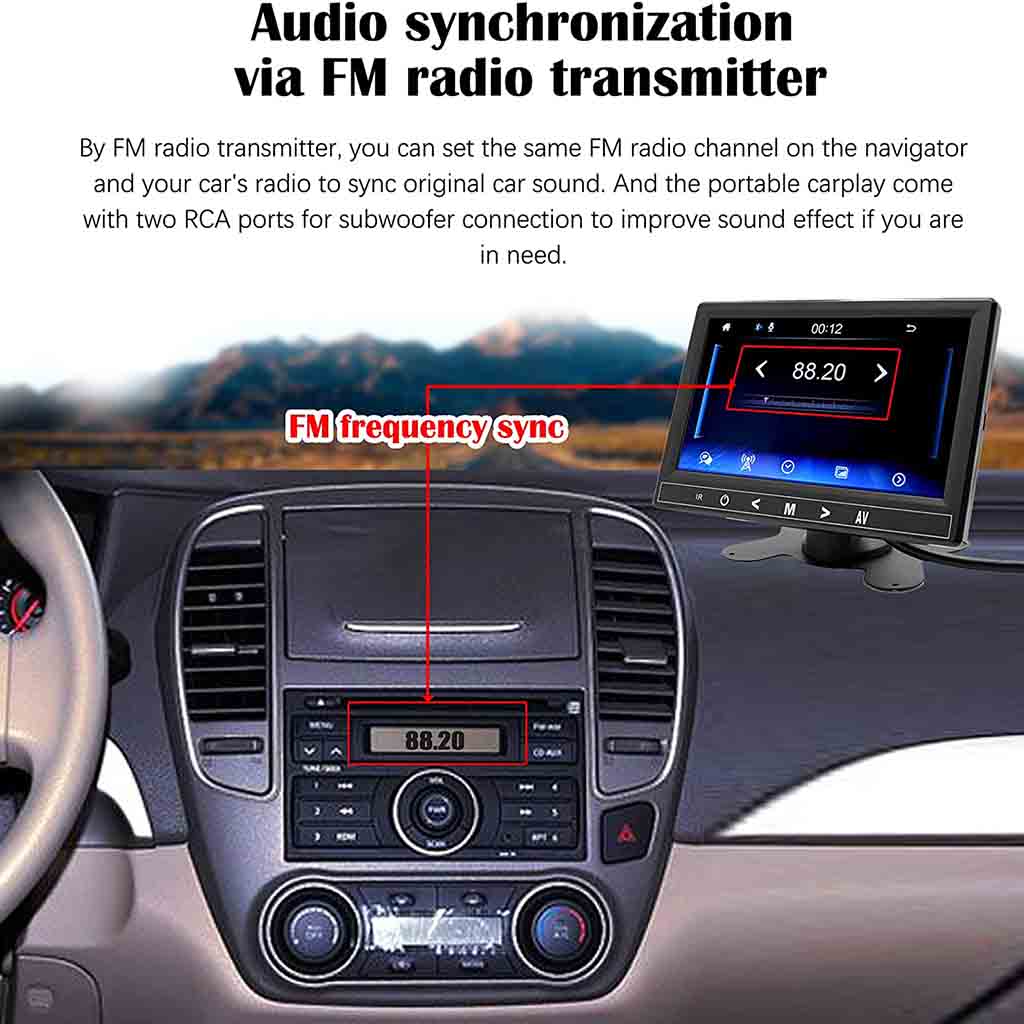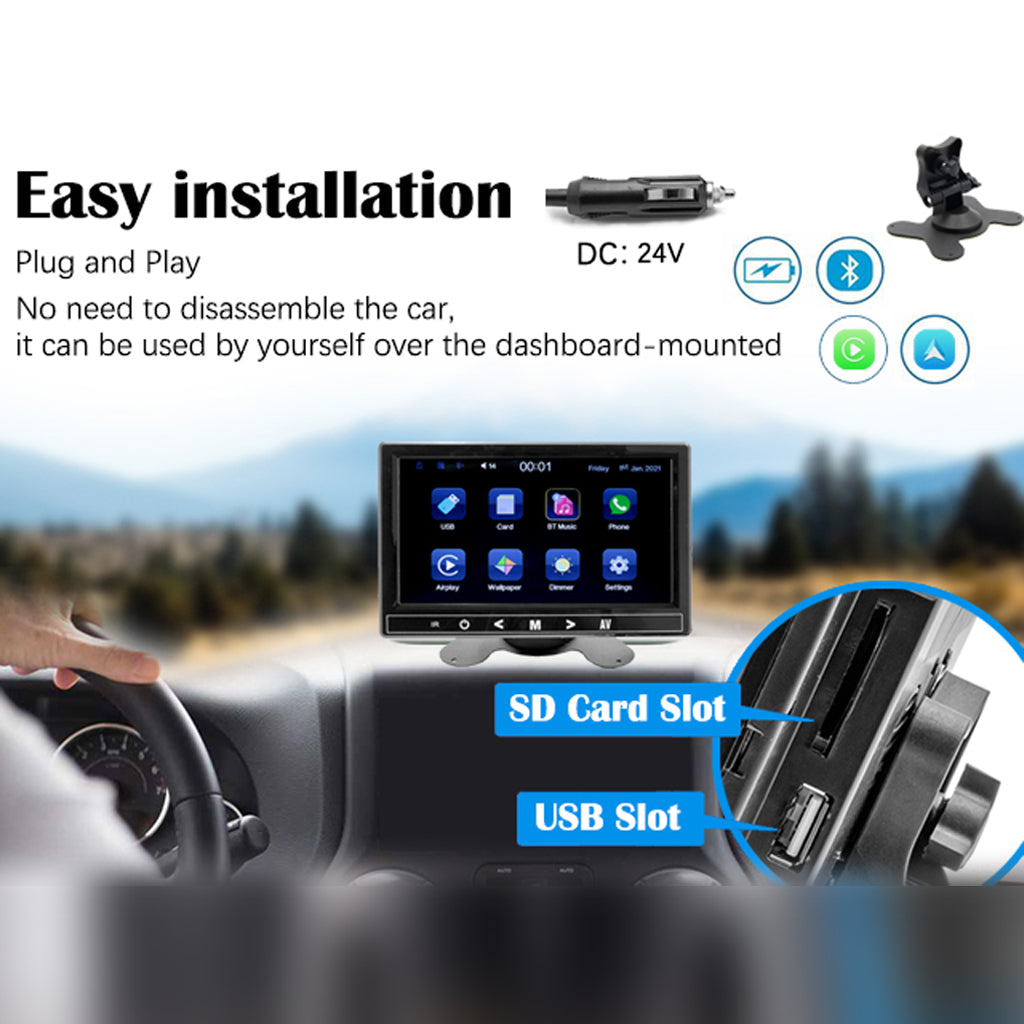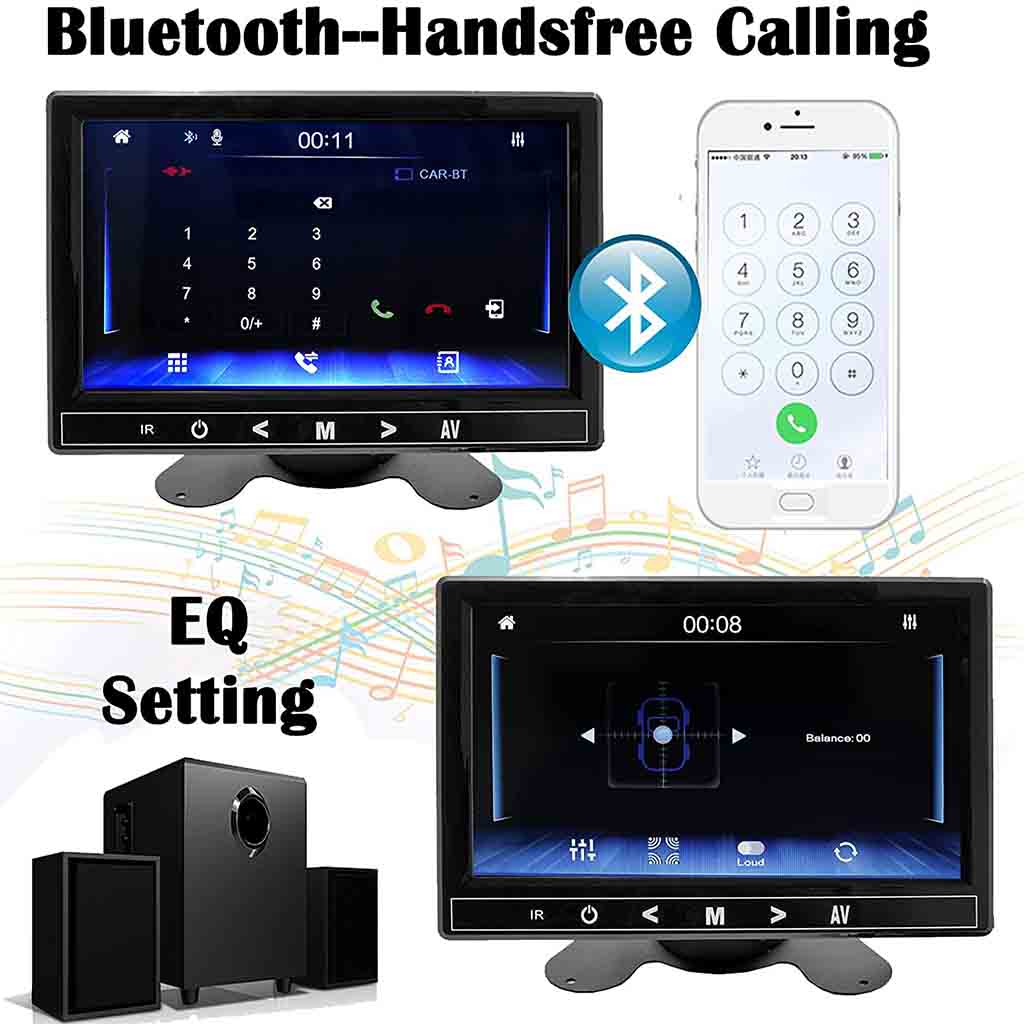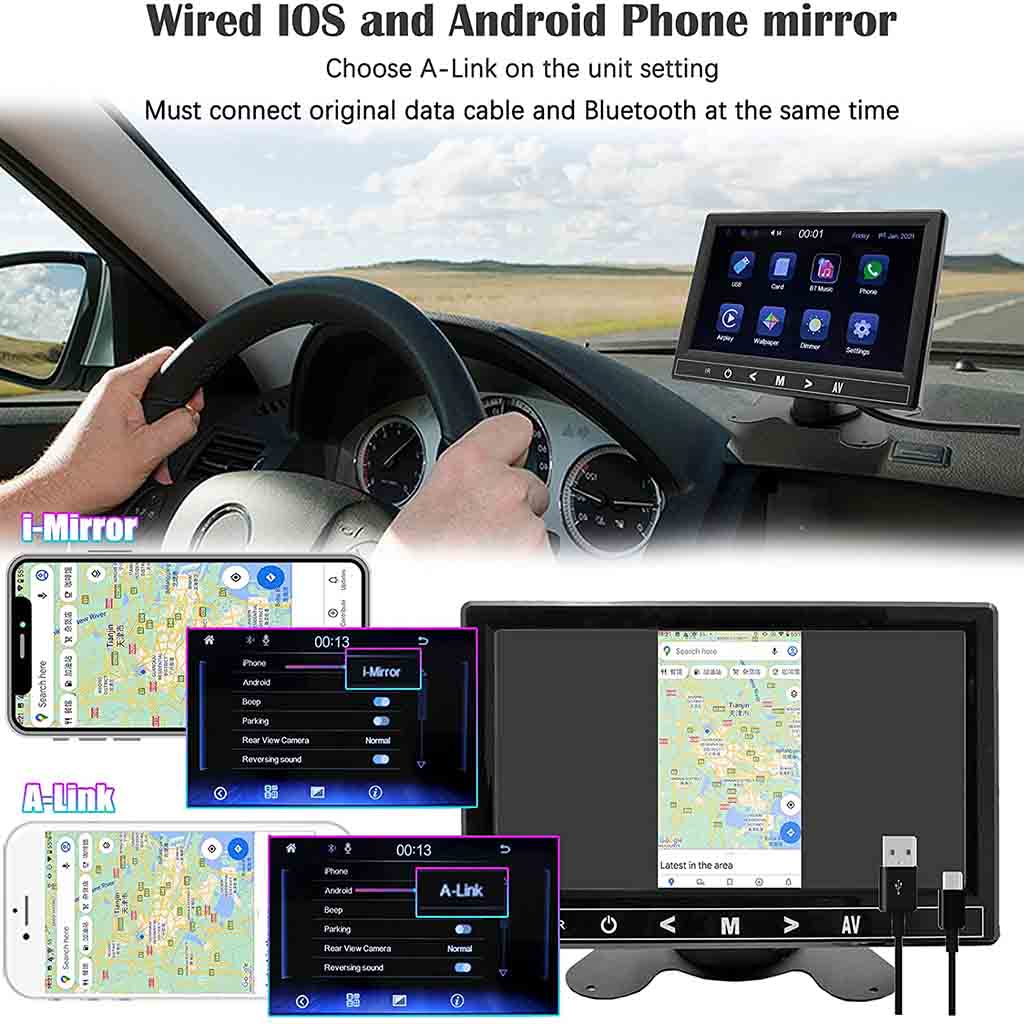 What is a portable radio?
A portable radio, or portable navigation device, namely PND or PNA, refers to positioning and navigation equipment that can be carried with you, as well as PDA with built-in positioning and navigation. A considerable part of them uses button batteries, which are convenient to carry, simple to install, diverse in choice, and inexpensive.
The earliest PNA was used by the US military as a handheld GPS unit (approximately the mid-1980s). It can display the user's location on an electronic map and includes simple navigation functions. The current PND equipment has complete positioning and navigation functions and includes a variety of user interfaces, such as electronic maps, steering commands, and voice instructions.
With the development of car navigation systems, the PND market is also expanding. Now some portable navigation functions can also support mobile phone connections, such as CarPlay and Android Auto. But this kind of portable radio has no built-in navigation and can only be realized by connecting a smartphone.
How to install a portable radio?
Since it is said to be portable, it must be very easy peasy to install it. No need to remove any wire in your car. The portable navigator is attached to the windshield with a suction cup and can be used directly, which is very simple and convenient. You can install it in any position that looks comfortable to you, without having to look down at the original car stereo.
How to use a portable radio?
The portable radio is also very convenient to use. To start the machine, you only need to connect the power cord to the cigarette lighter port on the car. Because some portable car radios do not have a built-in speaker, make sure that the channel of their radio is the same as the original car stereo FM radio on the car.
Here are the steps to use the portable radio:
Plug the power connector into the cigarette lighter.
pair phone Bluetooth to the

player

Set radio channel of the

player

same as the onboard radio channel.
What's the benefit to install a portable radio?
1. Flexible installation: The portable radio can be installed in any position of the car without changing the car, it will not damage the lines on the car and is not easy to cause electrical failure.
2. In terms of the size of the display screen, the portable radio is more flexible and diverse: portable car stereo screens can be selected in sizes of 3.5 inches, 4.3 inches, 4.7 inches, 5 inches, and 7 inches.

3. The portable radio is more convenient to operate: the portable car stereos can be operated in the place where the user is most comfortable (you can put it on your hand).
4. Support mobile phone connection function: The portable car stereo MP5 player can be connected to a smartphone to use, such as CarPlay, Android Auto, and mirror link functions.
5. In terms of maintenance, the portable radio is easier to repair: because of its simple structure, once a problem occurs with the portable car radio, it can be taken off and sent for repair directly.
6. portable radio is more cost-effective in terms of purchase price: portable radio has the same functions as car stereos, but car stereos are generally 2-3 times more expensive than portable navigators.
7. High utilization rate: The portable radio has no restrictions on the vehicle type and can be used on multiple vehicles of its own without the need to change the line and install it.
Please Note:
1- We provide free shipping services.
2-On the day you submit the order, we will send out your goods, you can check the logistics update information after 5 nature days.
Transport process
1-3 nature days for processing
Use China Post to send goods (free shipping), you can also choose to pay the postage and choose faster air freight, such as DHL, UPS, FEDEX.
Take the United States as an example. The last mile will use USPS to deliver the goods to your address. According to local conditions in other countries, international freight companies will choose the best quality method

3- If there are taxes and fees incurred during the contractor's process, It's the customer's responsibility to cover all the taxes

4- The following transportation methods are air transportation. The reference time to reach the United States is 15-25 days, and the time to reach Europe is 20-30 days. For other countries and regions, please contact customer service.

5- 60 days to return and exchange the goods.
 China Post Free shipping reference time (natural day)
North America
Transportation

 

Nature day
United States
13-25 days

FREESHIPPING

Canada
13-25 days

FREESHIPPING

Mexico
18-35 days

FREESHIPPING

Europe
Transportation Nature Day

 

UK, France, Germany, Italy, Spain, Netherlands, Austria, Belgium, Bulgaria, Switzerland, Czech, Denmark, Estonia, Finland, Greece, Croatia, Hungary, Ireland, Lithuania, Luxembourg, Latvia, Malta, Poland, Portugal, Romania, Sweden, Slovenia, Slovakia, Ukraine

20-30 days

FREESHIPPING

Oceania
Transportation Nature Day

Australia, New Zealand

20-30 days

FREESHIPPING

Asia (Middle East)
Transportation Nature Day

UAE

20-30 days

FREESHIPPING




Cyprus

20-30 days

FREESHIPPING




Israel

20-30 days

FREESHIPPING




Saudi Arabia

20-30 days

FREESHIPPING




Turkey

20-30 days

FREESHIPPING



Africa
Transportation Nature Day

South Africa                                                                     

18-35 days

FREESHIPPING
 We provide a faster shipping method, of course, this requires you to pay.
 Country

DHL, UPS, FedEx 

Australia, New Zealand

29.99$ 

7-15 natural day

United States, Mexico, Canada

29.99$

8-20 natural day

Jersey, Croatia, Lithuania, Latvia, Luxembourg, Czech Republic, Slovenia, Liechtenstein, Sweden, Switzerland, Monaco, Austria, Andorra, Malta, Portugal, Greenland, Norway, Slovakia, Cyprus, Hungary, Canary Islands, Italy, Guernsey, Spain, Greece, Bulgaria, India, United Kingdom, Netherlands, Belgium, Iceland, Gibraltar, Poland, Ireland, Denmark, Germany, Estonia, France, Finland

29.99$

4-11 natural day

Egypt, Israel, Jordan, Bahrain, Afghanistan, Turkey, Oman, UAE, Saudi Arabia, Libya, Kuwait, Qatar 

29.99$

6-14 natural day