Please note the included wire harness is a standard version, contact the customer service for external needs before purchasing.
Brand
Binize 
Applicable models
General type 

Apple maps car radio

Size
7Inch 2Din 
System 
Wince

Touch Screen
Yes

Resolution

800*480

Px

FM AM
Yes

EQ Setting
Yes

Autolink

Yes, Both for iPhone and Android (not for 

Samsung)

Mirrorlink

Yes, Both for iPhone and Android (not for Samsung)

Steering Wheel Control

Yes

Built-In Mic

Yes

Built-In WIFI Receiver

Yes

Online Map

Apple maps car radio

EQ Settings

Yes

Reversing Camera

Yes

Bluetooth

Yes

 External Microphone

Yes
 🚦【Compatible with wired Apple maps car play radio】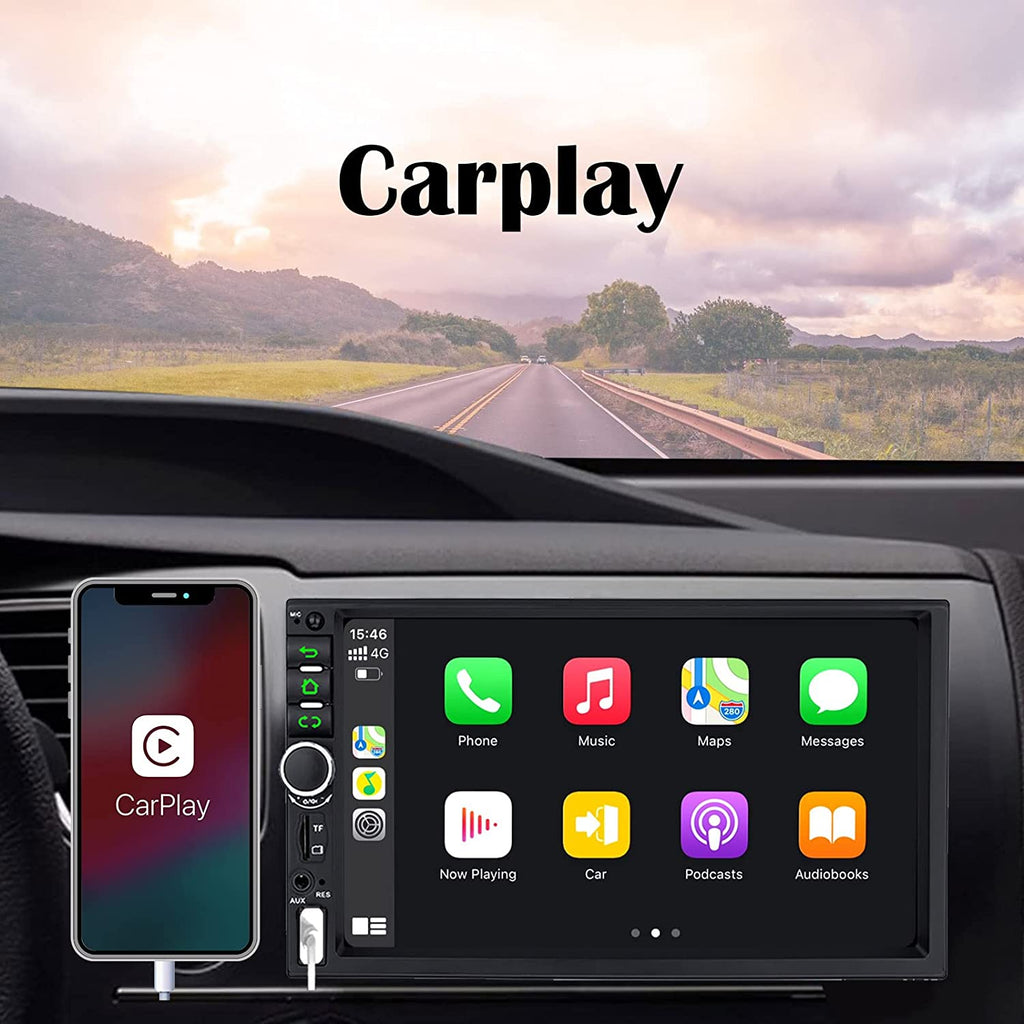 🚦【Compatible with wired Android AUTO 】: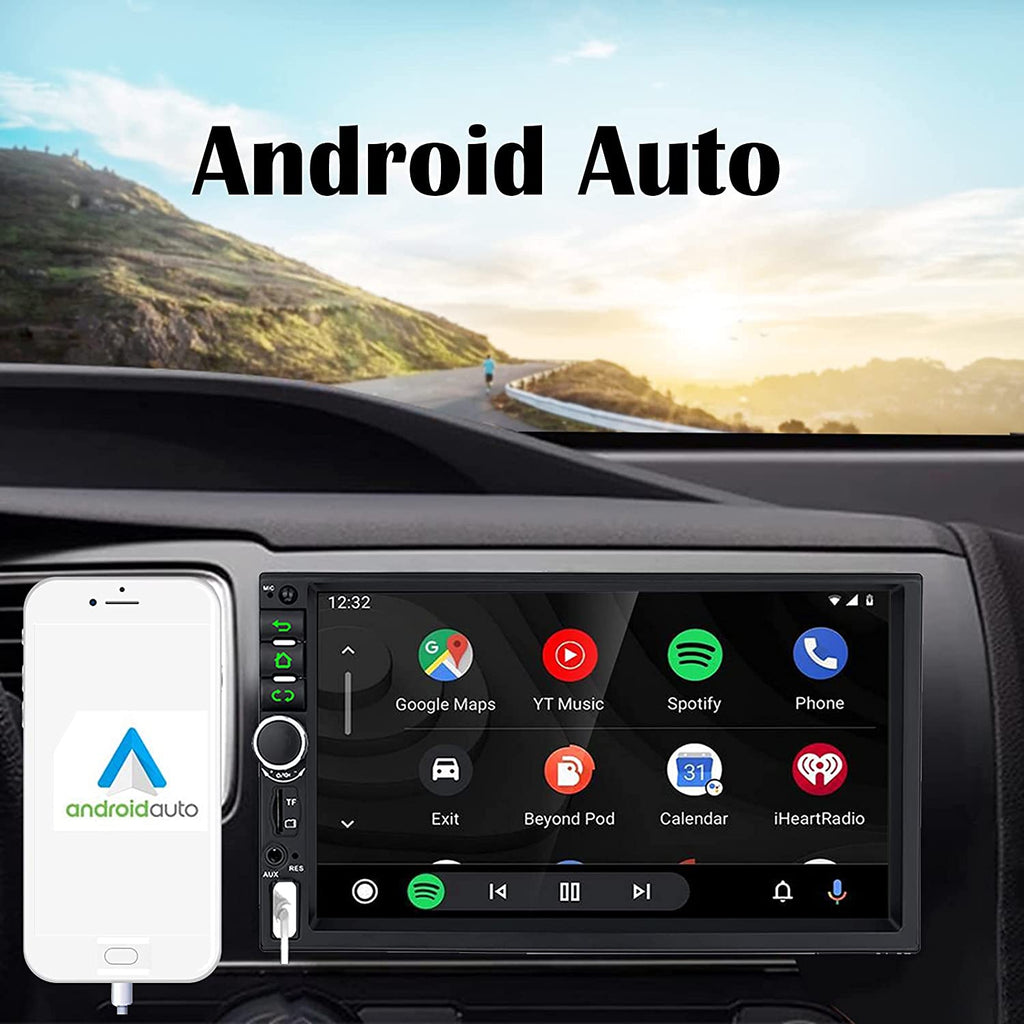 🚦【Included HD Backup Camera of Apple maps car radio】: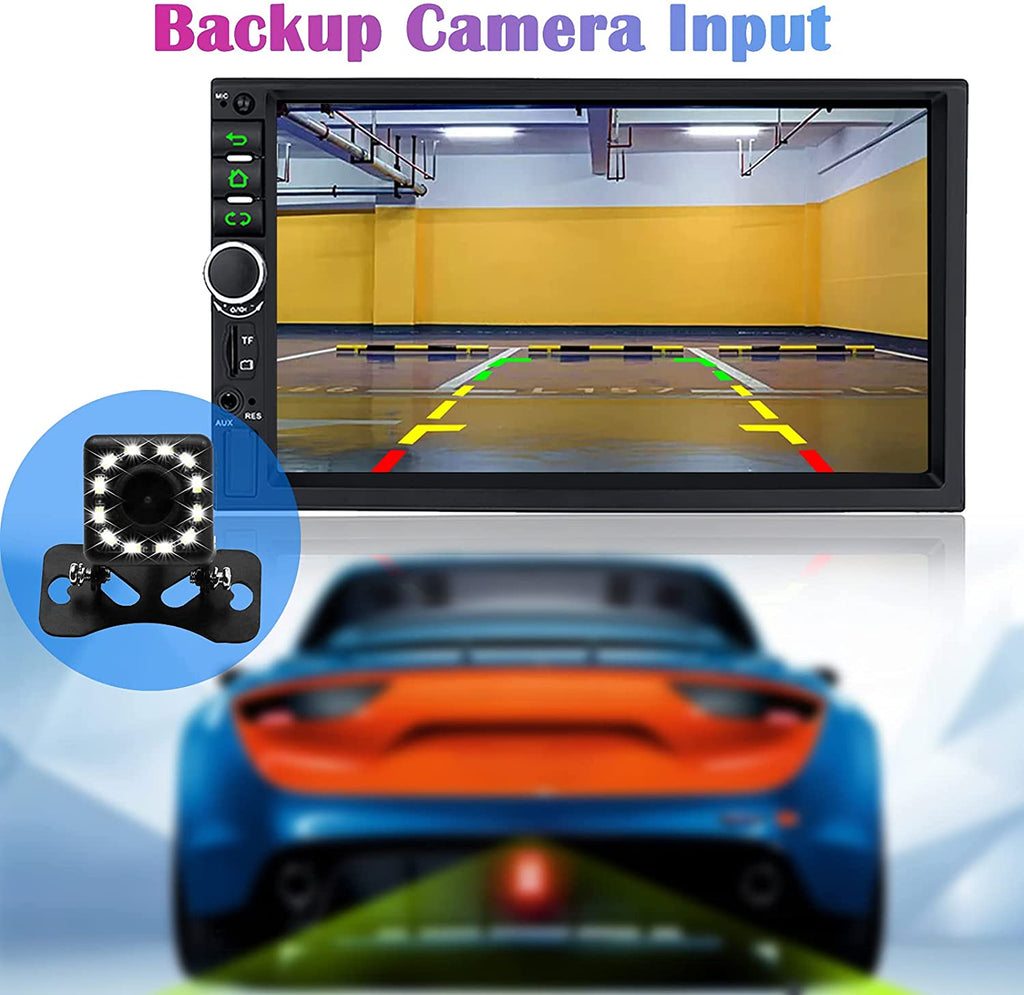 🚦【Lossless sound BT,FM/AM Radio of Apple maps car radio】: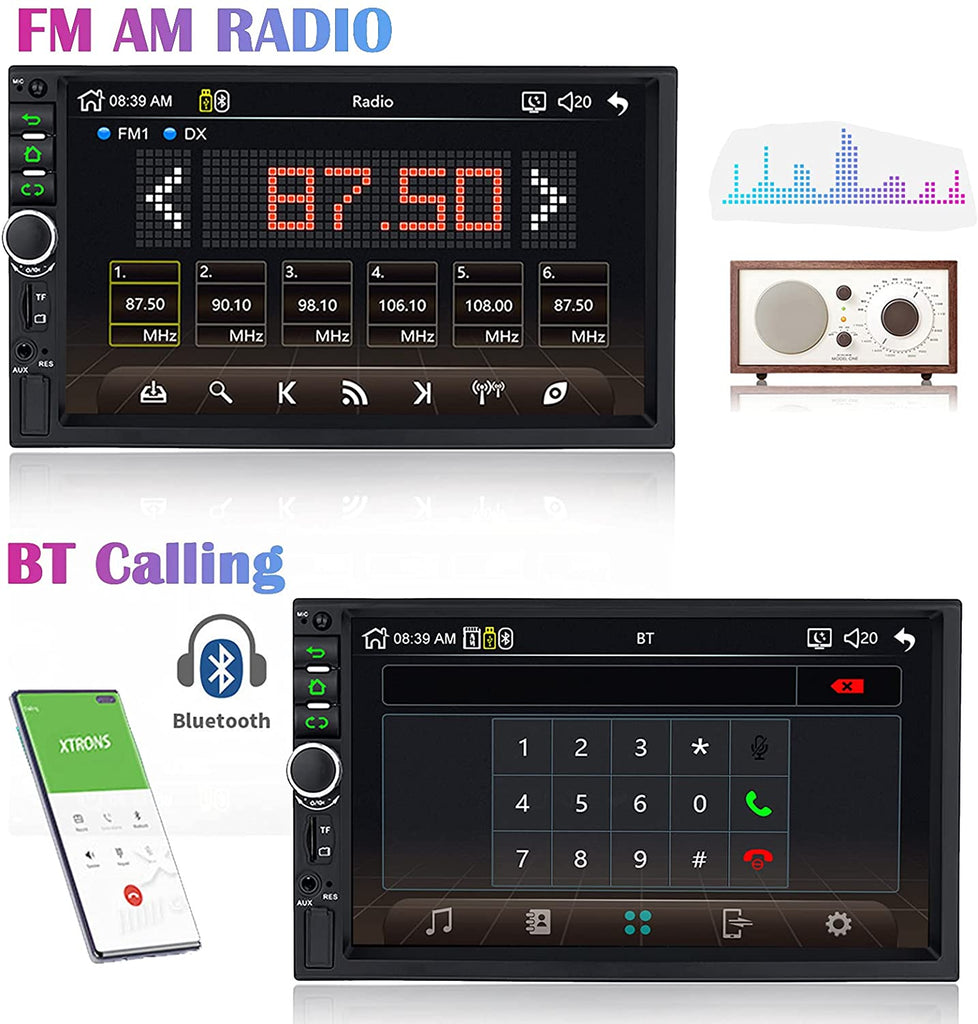 🚦【Stable MirrorLink Dual pages projection of Apple maps car radio】: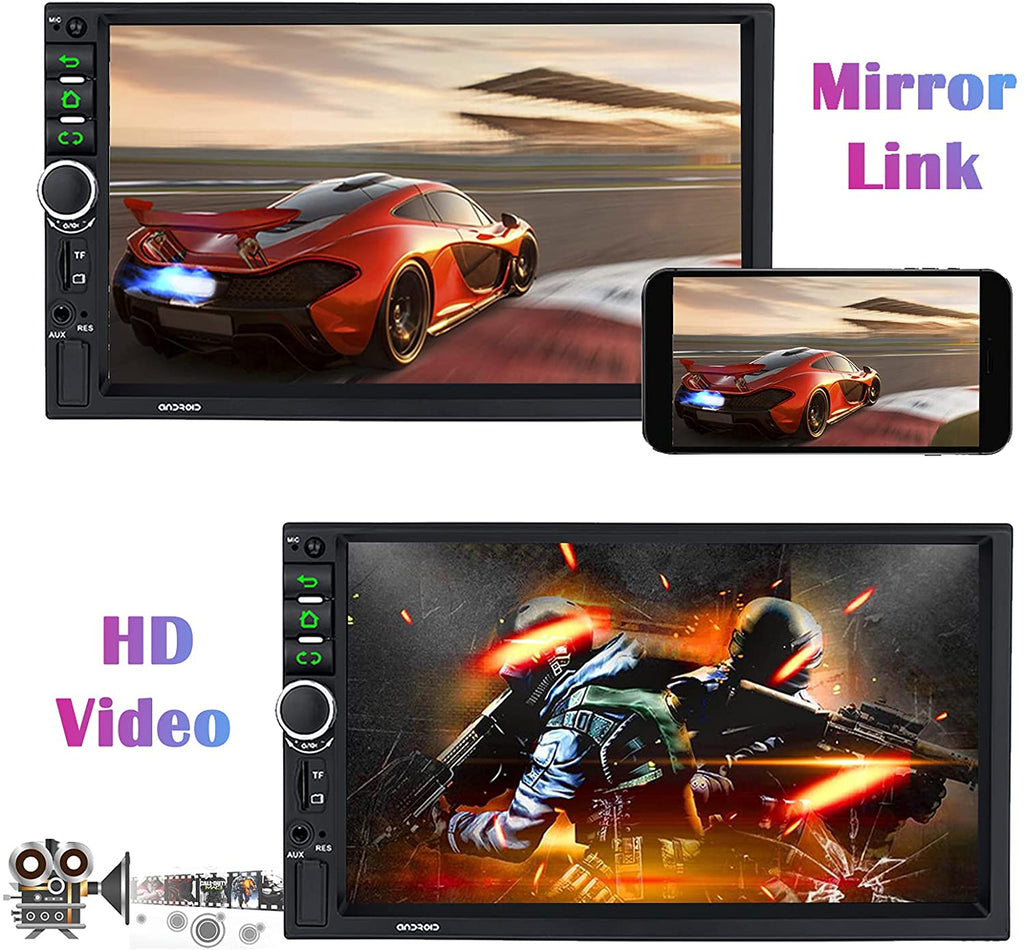 NOTE:
How many functions do we have in our Binize 7inch double din Apple maps car radio?

Carplay/Android Auto: Sync your IOS or Android smartphone to access all the features on your phone through the built-in display.

Mirror Link: It allows you to cast what's displayed on your phone to the 7 inch HD screen screen via original USB data cable.

Bluetooth: Make calls hands-free and listen to the music.

FM/AM Radio: Automatically select radio stations, Listen to real-time radio, weather forecast, traffic news.

Backup Camera Input: A backup camera is included in the package. It will be safer by shutting down other apps every time you are in reverse.

Steering Wheel Controls: The package not included steering wheel remote control.

EQ Audio Setting: Custom/DBB/ CLASS/ ROCK/ JAZZ/ POP effect adjustable.

Multiple language Settings: English/ Spanish/ France/ German/ Italian/ Portuguese/ Dutch/ Arabic/ Russian/ Japanese/ Chinese and others.

Time Setting: Set your time freely, the time format as 12-hour or 24-hour.  
Some tips for you

Tip 1: When the car in reverse mode, other functions cannot be used, such as calls & music in Bluetooth mode, phone mirror link, etc.

Tip 2: The car stereo cannot be used on cars with a voltage of more than 14 V.

Tip 3: Our car radio is is standard double din size, Length:178 mm, Height: 100 mm, Please check the size of car stereo before purchasing.If you are not sure about the size, please ask your manufacture for the specific data or google your model.
Please Note:
1- We provide free shipping services.
2-On the day you submit the order, we will send out your goods, you can check the logistics update information after 5 nature days.
Transport process
1-3 nature days for processing
Use China Post to send goods (free shipping), you can also choose to pay the postage and choose faster air freight, such as DHL, UPS, FEDEX.
Take the United States as an example. The last mile will use USPS to deliver the goods to your address. According to local conditions in other countries, international freight companies will choose the best quality method

3- If there are taxes and fees incurred during the contractor's process, It's the customer's responsibility to cover all the taxes

4- The following transportation methods are air transportation. The reference time to reach the United States is 15-25 days, and the time to reach Europe is 20-30 days. For other countries and regions, please contact customer service.

5- 60 days to return and exchange the goods.
 China Post Free shipping reference time (natural day)
North America
Transportation

 

Nature day
United States
13-25 days

FREESHIPPING

Canada
13-25 days

FREESHIPPING

Mexico
18-35 days

FREESHIPPING

Europe
Transportation Nature Day

 

UK, France, Germany, Italy, Spain, Netherlands, Austria, Belgium, Bulgaria, Switzerland, Czech, Denmark, Estonia, Finland, Greece, Croatia, Hungary, Ireland, Lithuania, Luxembourg, Latvia, Malta, Poland, Portugal, Romania, Sweden, Slovenia, Slovakia, Ukraine

20-30 days

FREESHIPPING

Oceania
Transportation Nature Day

Australia, New Zealand

20-30 days

FREESHIPPING

Asia (Middle East)
Transportation Nature Day

UAE

20-30 days

FREESHIPPING




Cyprus

20-30 days

FREESHIPPING




Israel

20-30 days

FREESHIPPING




Saudi Arabia

20-30 days

FREESHIPPING




Turkey

20-30 days

FREESHIPPING



Africa
Transportation Nature Day

South Africa                                                                     

18-35 days

FREESHIPPING
 We provide a faster shipping method, of course, this requires you to pay.
 Country

DHL, UPS, FedEx 

Australia, New Zealand

29.99$ 

7-15 natural day

United States, Mexico, Canada

29.99$

8-20 natural day

Jersey, Croatia, Lithuania, Latvia, Luxembourg, Czech Republic, Slovenia, Liechtenstein, Sweden, Switzerland, Monaco, Austria, Andorra, Malta, Portugal, Greenland, Norway, Slovakia, Cyprus, Hungary, Canary Islands, Italy, Guernsey, Spain, Greece, Bulgaria, India, United Kingdom, Netherlands, Belgium, Iceland, Gibraltar, Poland, Ireland, Denmark, Germany, Estonia, France, Finland

29.99$

4-11 natural day

Egypt, Israel, Jordan, Bahrain, Afghanistan, Turkey, Oman, UAE, Saudi Arabia, Libya, Kuwait, Qatar 

29.99$

6-14 natural day