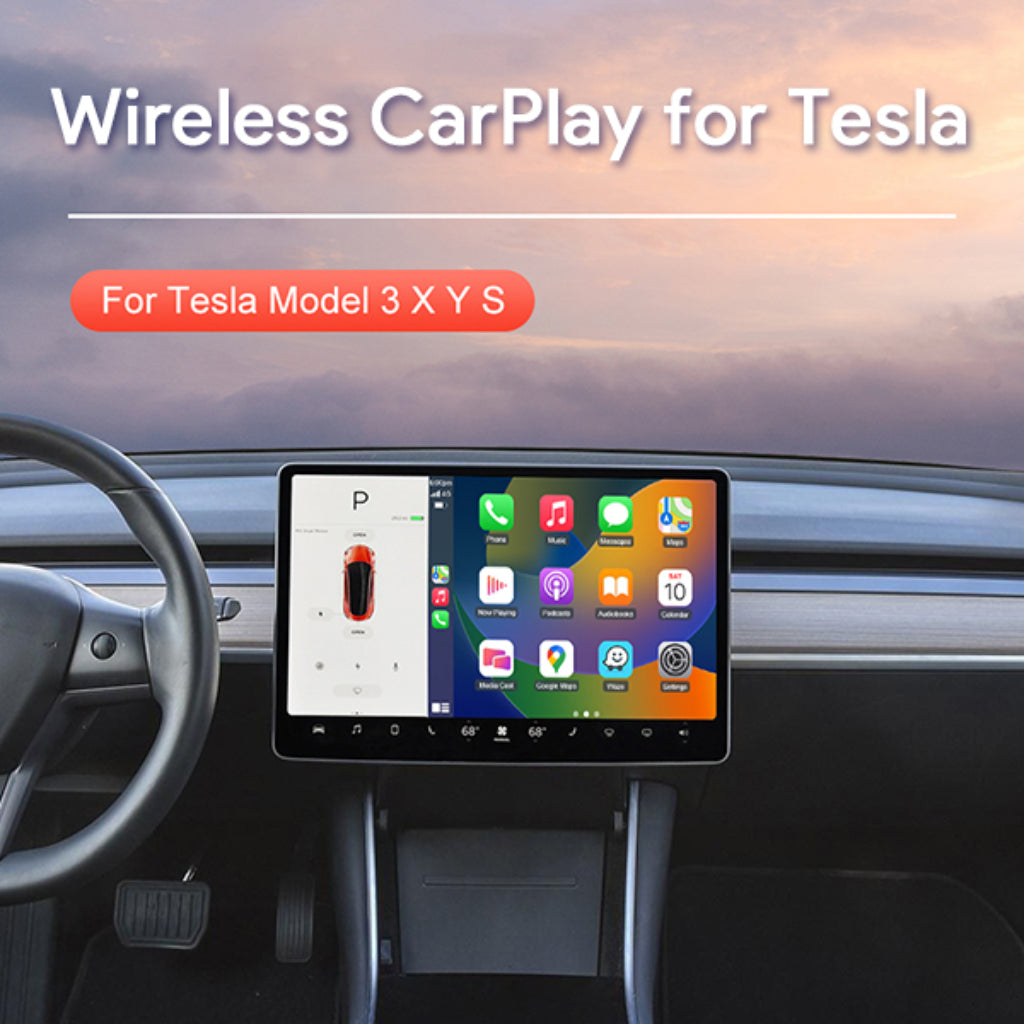 How to add CarPlay to 2022 Tesla model 3 ?
In an effort to boost sales, Tesla announced on Jan. 6 that it would cut the prices of the 2022 Tesla model 3 and Model Y by 6% and 13.5% respectively. Data showed that from January 9 to 15, the average daily sales volume of Tesla electric vehicles in the Chinese market reached 12,654 units, an increase of 76% compared with the same period last year. Model 3 increased 4.6 times compared with the previous month, and Model Y increased 5 times compared with the previous month.
Why doesn't 2022 Tesla model 3 have CarPlay?
Although many car companies will support CarPlay, for example, Honda, Ford, Mercedes-Benz and other car manufacturers have cooperated with Apple to carry CarPlay function. But Tesla has never supported Apple CarPlay system.
As a technology company, Tesla will write its own entertainment system software for its on-board information. But now Tesla has made a relatively perfect job on the car, and its intelligence level is already very high. If it carries CarPlay function again, some functions may overlap. This is probably the main reason why Tesla doesn't support CarPlay.
In addition, the reason why Tesla does not support CarPlay is that if CarPlay function is installed in the vehicle, it is equivalent to handing over all the control of the screen to CarPlay. In this case, the car enterprise may face problems such as data security and ownership, and even the division of rights and responsibilities will also have problems when the car machine system fails.
How to add CarPlay to 2022 Tesla model 3 ?
Binize CarPlay AI box for Tesla makes it possible.
CarPlay works by providing the box with an Internet connection via your phone's hotspot, a dedicated service URL, and a handshake via Bluetooth and WiFi. Since CarPlay has been used in vehicle navigation system for many years and drivers have formed usage habits, it is difficult to change user habits for this new model of Tesla, so the demand for Binize CarPlay AI box 2022 Tesla model 3 for is still high.
How to update CarPlay AI BOX for 2022 Tesla model 3  ?
1.Plug Binize Tesla WiFi CarPlay Adapter via the USB cable included
2.Go to the Tesla touchscreen Bluetooth setting page, search for the adapter's Bluetooth Aicar-xxxx, and click pair
3.Change your phone name to CPhoneHot (Settings → General → About → Name)
4.Go to your phone's personal hotspot setting page, open the Allow Others to Join, and change the WLAN Password to 68686688, (iPhone12 and newer models must keep the Maximize Compatibility option on)
5.Click the car icon in the lower left corner, click the wifi icon in the upper right corner, and pair the adapter wifi, password: 68686688, make sure the "Stay connected during driving" option is chosen
6.Open a new browser page, and input this URL: http://aicarpush.com
7.Turn on your iPhone wifi, then search for the Tesls Wifi adapter Bluetooth, then pair
8.Approve the permission for Using CarPlay
9.If you are using a Binize Tesla WiFi CarPlay adapter, we highly recommend bookmarking the URL mentioned above and forgetting all previous Bluetooth pairs.
Binize CarPlay AI box for 2022 Tesla model 3 no need for complicated installation, just plug and play, also no need for SIM card, with a phone , you can drive your Tesla to anywhere~