Which Music, Podcast, and Radio Apps that Work With Android Auto?
Android Auto allows you to safely and conveniently access all your favorite applications. If you are the kind of person who likes to listen to music or podcasts or other types of audio, you can find many apps compatible with Android Auto in the app store.
You can access all these applications in your phone on Android Auto, or you can select from the list of compatible applications installed on your phone by clicking the headset button on the menu.
Want to listen to music while driving? Here are the apps that work with Android Auto.
Music Apps that work with Android Auto
If you like listening to music while driving, you can find an app compatible with Android Auto for all major music services and access their main functions.
You can use Pandora to listen to your radio station and use the thumb up/down function to adjust your recommendations. You can listen to your playlists and recommendations through Spotify, YouTube Music and Amazon Music. You can also use Google Play Music to play your online lists and any audio you have downloaded to your phone.
Spotify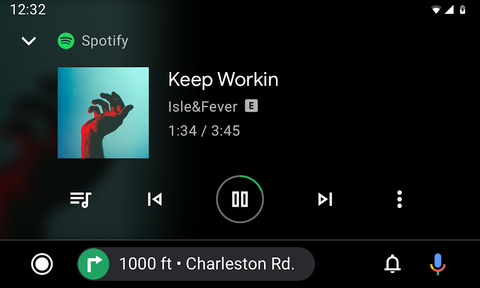 Spotify is still the world's largest music streaming service, if it is not compatible with Android Auto, it will be a punishment. Fortunately, it is, so you can access Spotify's vast database of available songs, albums, and artists. If you don't have a subscription, you can still get music streaming services for free, but this will come with ads. If you want to download songs where there is no mobile data, or use a limited data package, then you need to pay a $10 monthly Spotify Premium subscription fee. Spotify is constantly updating the application to achieve smooth functions.
Amazon Music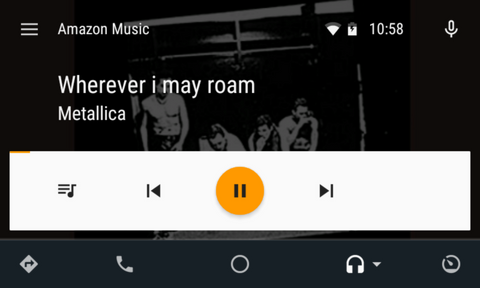 The experience of Amazon Music is similar to that of Google Play Music, but it may be more suitable for Amazon Prime users. When you decide to use Amazon Music on Android Auto, any music tied to your Amazon account-whether it is music in the cloud, or music you upload to the service, or music found on your phone- Both can be used, in addition to Prime Stations and other functions. Voice commands can also be used hands-free, which means you can say "OK, Google" followed by phrases like "Play a song on Amazon Music." The latest update introduces free streaming music, so you can listen to top playlists and thousands of radio stations for free.
Pandora
There is a reason why the radio and driving are so closely connected. That's because you can't take the time to choose the next song. Pandora may be the top music streaming service that provides personalized music broadcasting. It can learn your preferences while you listen, and continue to provide better recommendations as you listen more. Unlike traditional radio, you can skip songs that you are not interested in—although the number of skips for free accounts is limited.
Podcast and Audiobook Apps for Android Auto
If you want to continue listening to your favorite podcasts, or prefer audiobooks that accompany you on the road, there are many options. From radio apps like NPR One, to popular podcast apps like Pocket cast and Stitcher, to audiobook apps like Audible, Android Auto can meet your needs.
Pocket Casts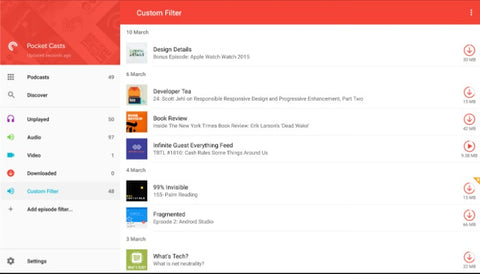 The best podcasts you can use during your daily commute. Pocket cast is now fully compatible with Android Auto.
When paired with Android Auto, you can use play/pause and rewind/forward controls. You can also browse new podcasts, set filters, and take advantage of the previously created "Up Next" queue. However, you must prepare these playlists before you start Android Auto, so you may still need to check your phone a little bit before hitting the road.