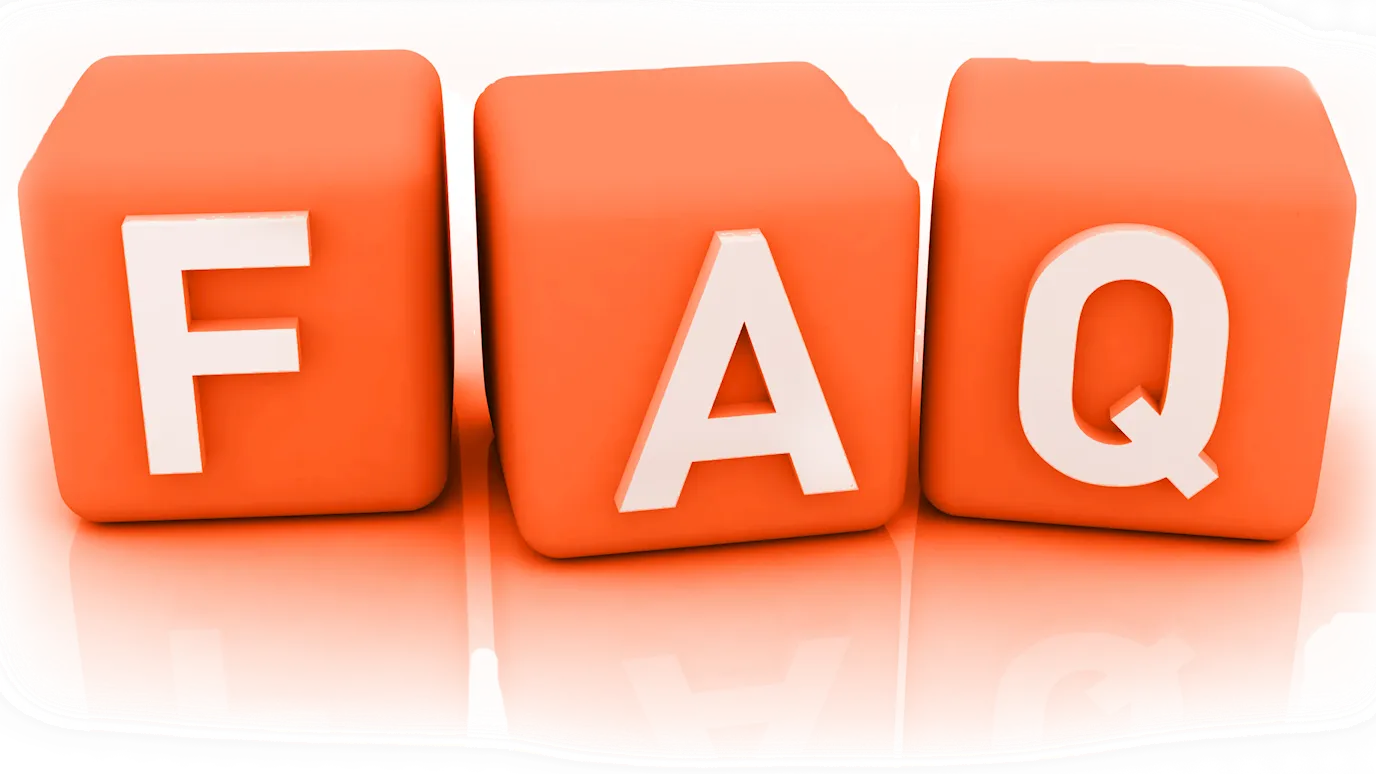 Binize Apple CarPlay wireless adapter FAQ
This article shows some Q&A about Binize Tbox, hope you can find some useful answers.
Quality Guarantee and Service for Binize Tbox
Does the product have quality assurance?
All products have been tested and we provide an after-sales guarantee. We will give priority to providing one-to-one service for customers who place orders on our site.
How to enjoy product after-sales service?
We offer service for items purchased from our store. You can also refer to our FAQ.
Before You Buy
Can Binize Apple CarPlay wireless adapterbe compatible with my car?
A: Binize Tbox is compatible with car which come with OEM wired CarPlay. If you want to double check, please contact us. We have a lot of customers owns 2018 Camry Toyota, 2019 Chevy Silverado RST, 2021 Tundra Crewmax, 2020 Corolla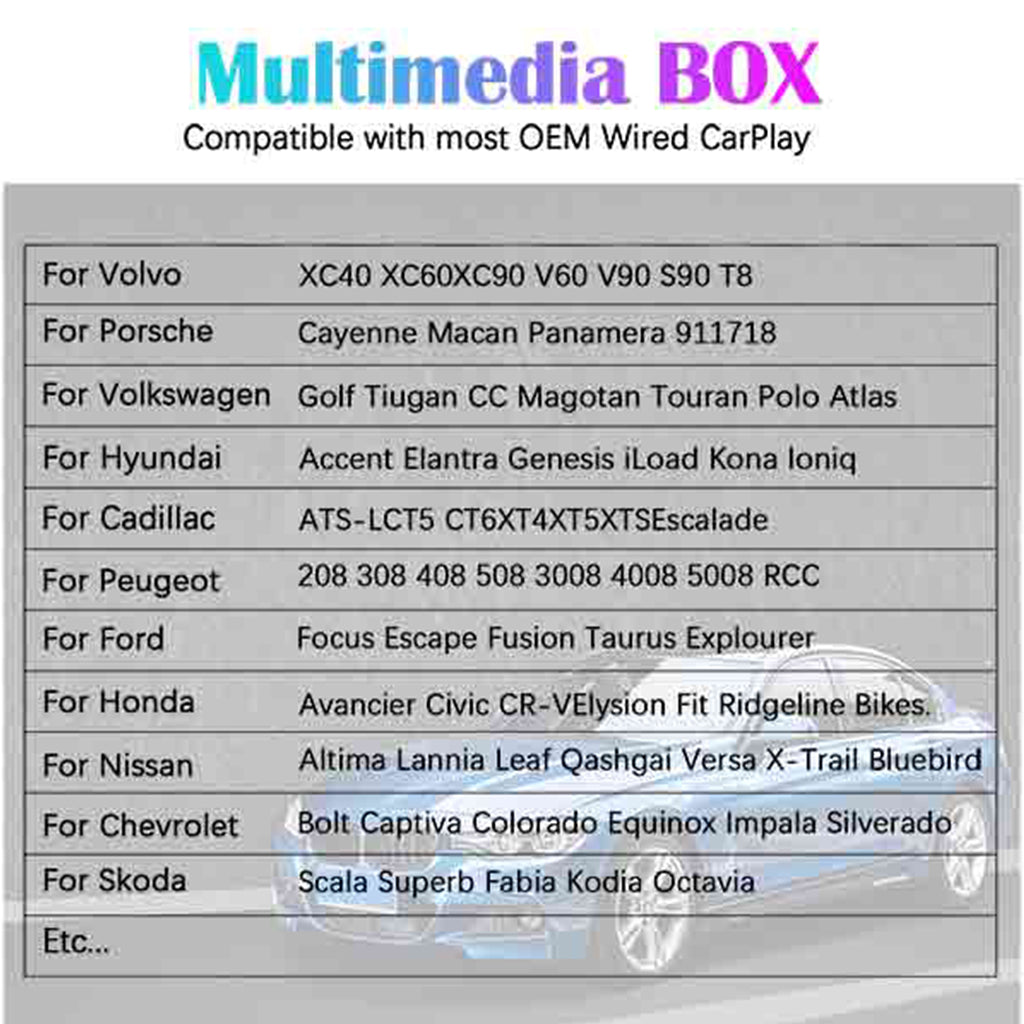 Can Binize Tbox be compatible with my smartphone?
A: Wireless CarPlay requires iPhone6 and above phones /IOS10.0 and above
Wireless Android Auto supports phones:https://www.android.com/auto
Samsung phones are not fully compatible
How to install Binize Tbox?
A: Plug and play, just need to plug into your car's USB port, the stereo would recognize the box and start working.
FAQ:
H

ow to insert a SIM card correctly to

Apple CarPlay wireless adapter?
Step 1. Please make sure Binize logo on the box is upwards.
Step 2. Please make sure the copper contact of the SIM card is downwards.
Step 3. Insert the SIM card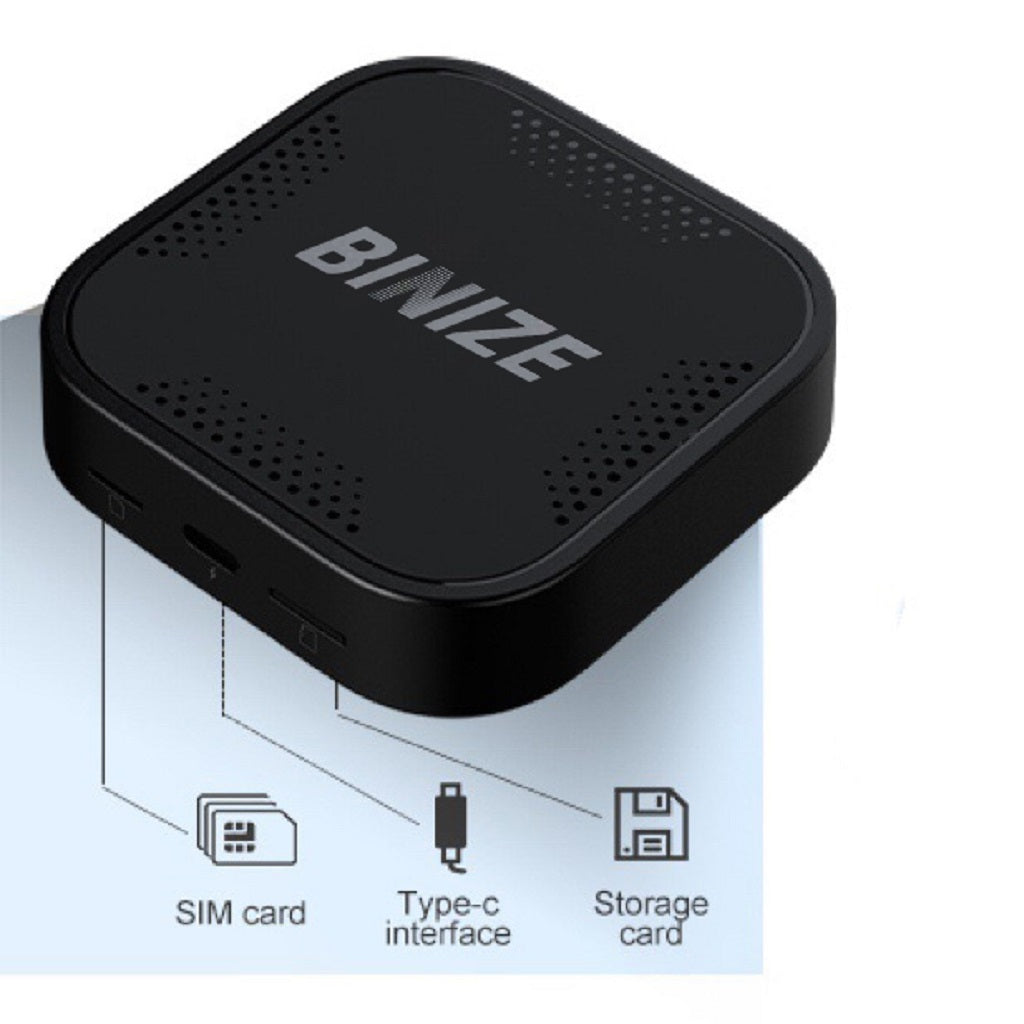 Why Binize Tbox cannot recognize

SIM card

?
A: Please check whether the card is inserted correctly.
How can I upgrade the T-box firmware?
Note: We strongly recommend that do not update if the product is good working well.
Step1. Format a TF card to FAT32, copy the Update.zip file (contact us for the latest version) into the root directory of the TF card.
Step2. Insert the TF card into the box, the system will automatically recognize the update file
Step3. Click Update on the pop-up message (Please don't remove the TF card while the box is updating.)
Step4. T-box will start updating after the file was copied.
How to reset the T-BOX data?
Step1. Click setting
Step2. Click system
Step3. Click advanced
Step4. Click reset option
Step5. Click erase all data
Step6. Click erase everything
Step7. Plug out and in the ai box
Step8. Update apps
How to download Hulu or Disney+ that cannot be searched in Google Store on Apple CarPlay wireless adapterin my 2022 Toyota Tundra? (Same for other vehicle models)
Step1. Download the apk of the app to the TF card through a computer or laptop;
(URL provided to download apk: https://apkpure.com/br/)
Step2. Insert the TF card to the T-box and install the app;
Step3. After the installation is done, you can use it.
How to keep the CarPlay automatically connect when I use the T-BOX?
Step1. open the "Autokit" app;
Step2. open the "setting" icon;
Step3. keep "hide when disconnect" and "wireless CarPlay auto connect" to be open
What should I do when I update Netflix in the play store, it says it is not available on the device?
This situation happens when you update the app in Play store, we suggest you do not go to Play store to update or download Netflix. There's inbuilt Netflix in our Tbox, you can follow this step to install.
Step1. Power on Tbox;
Step2. Find the APKinstaller.
Step3. Click the install manager.
Step4. Install the Netflix.
What should I do when I play the video on YouTube, the audio is not synced?
Step1. Click setting
Step2. Click about Autokit-tbox settings
Step3. Change the video definition from 10 to 6
Product mentioned:  
👉Join us: https://partners.binize.com
👉More info of the unit: https://www.binize.com