7 Inch Android Single DIN Flip Out Screen Support TF Card USB and AUX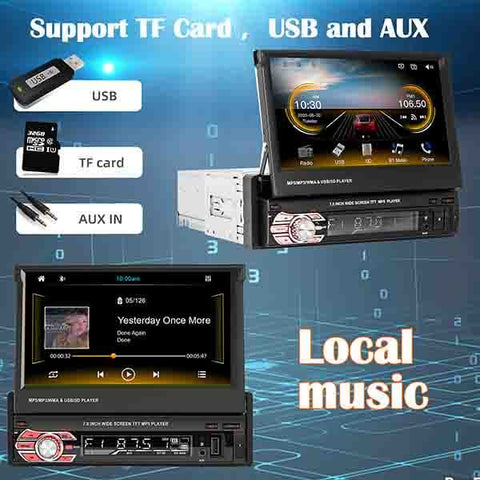 7 Inch Android Single DIN Flip Out Screen Support Mirror Link and Phone Online Navigation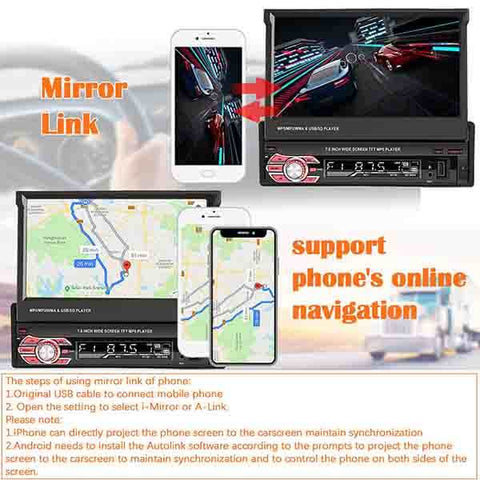 7 Inch Android Single DIN Flip Out Screen Support Android Auto and Carplay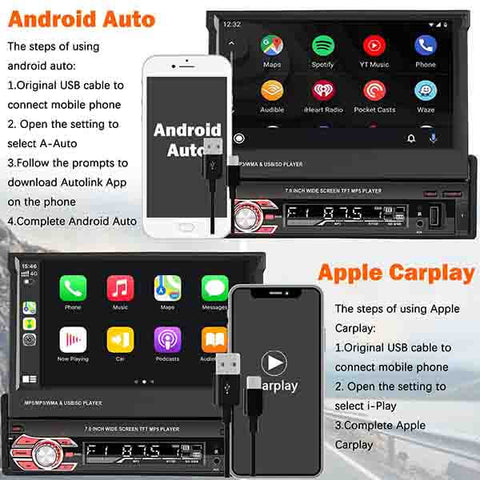 7 Inch Android Single DIN Flip Out Screen Support Steering Wheel Control and Back Camera Input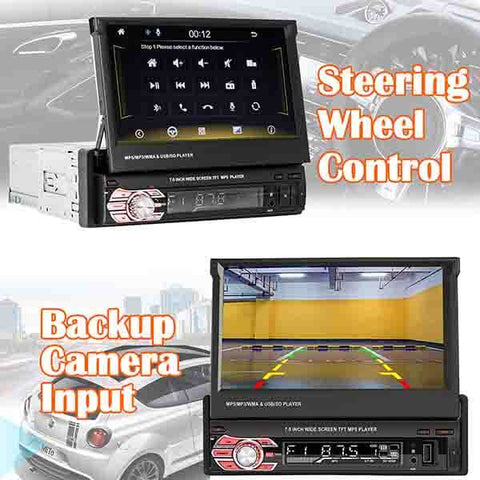 7 Inch Android Single DIN Flip Out Screen Support Bluetooth Handsfree Calling FM AM Radio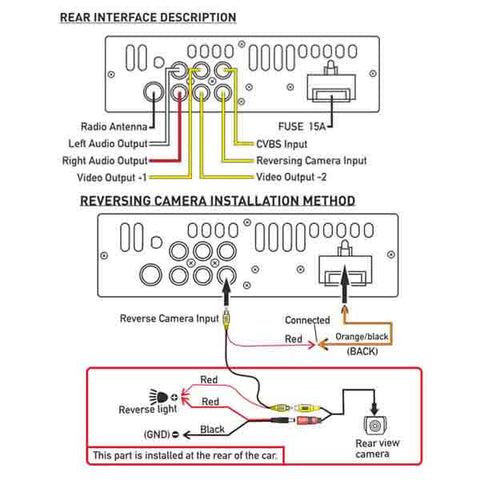 Brand
Binize
model 
7 Inch Single DIN Flip Out Screen Car Radio
Voltage
12V
Types of
Car MP5-manual telescopic screen
system
Sunplus Ecos system
Software solution
8268K
Screen model
7 inch HD
screen size
7 inch
Screen Resolution
1024*600
Panel size
188*58mm
Number of FCL
10
Mobile phone interconnection
stand by
Radio band
FM AM
Radio chip
ZT0811
Language
English/Spanish/Portuguese/Simplified Chinese/Traditional Chinese/German/French/Turkish/Japanese/Russian/Italian/Polish/Dutch/Arabic/Hebrew/Czech
Maximum output power
4x60W
Operating Voltage
12-14.4V
Operating temperature
-10~60 degrees
Steering wheel control function
stand by
Bluetooth model
CAR BT version 5.0
Power amplifier chip
YD7388
Radiofrequency
FM87.5~108MHz AM522~1620KHz
Video output
stand by
Dual screen with display
stand by
TF card slot
Have
Remote control
21 button silicone remote control
Square control remote
stand by
USB interface and version
USB2.0 reading all the way
Reset button
Have
Button
Physical button
RCA terminal introduction
2 audio output, 1 reversing input, 1 video input, 2 video output
Front AUX input
Have
Vehicle logo replacement
stand by
Supported audio formats
MP3/WMA/AAC/APE/OGG/M4A/RA/WAV
Supported video formats
H264 DIVX HD(720P 1080I 1080P) AVI/FLV/MKV/RMVB/MPEG/ASF/TS/H264/QT
Supported image format
JPEG/PNG/BMP/GIF/TIFF
Factory set password
2020
Complete machine list
Host + manual + power cord + remote control + disassembly key
Basic skills

1. Radio function FM radio: supports FM1, FM2, FM3 three bands, can store up to 18 radio stations, AM: AM1 AM2, can store up to 12 radio stations. RDS function can receive real-time traffic information.

2. Card reading, U disk reading (audio/video/picture) 

3. AUX function, click into the AUX mode of the machine and use the AUX audio cable when the phone is playing music. Two ends of the plug (one end is plugged into the machine AUX jack, the other end is plugged) Insert the phone earphone jack) to play phone music.

4. Bluetooth function, first turn on the mobile phone's Bluetooth, then use Bluetooth to search for CAR-BT or bt-mp3, etc., after searching, click to connect, enter 0000, and some can be used without a password. Enter the Bluetooth mode on the machine, and then open the mobile phone player to play songs, you can play mobile phone music.

5. RCA audio output can be connected to a subwoofer, support active subwoofer

6. Support AHD high-definition reversing camera input

7. Video input

8. Video output (same display): Support video output to an external monitor, dual screens at the same time

9. Original car steering wheel learning function: This function needs to first connect the machine to the original car's square control line, and then click on the machine's settings-square control settings to learn

10. Mobile phone interconnection (support for Android iPhones)

11. Support iPhone wired Carplay function

12. Support Android AUTO function

13. The display screen can be folded (manually retractable)

14. Colorful lights: seven colors are optional or automatically changed
Please Note:
1- We provide free shipping services.
2-On the day you submit the order, we will send out your goods, you can check the logistics update information after 5 nature days.
Transport process
1-3 nature days for processing
Use China Post to send goods (free shipping), you can also choose to pay the postage and choose faster air freight, such as DHL, UPS, FEDEX.
Take the United States as an example. The last mile will use USPS to deliver the goods to your address. According to local conditions in other countries, international freight companies will choose the best quality method

3- If there are taxes and fees incurred during the contractor's process, It's the customer's responsibility to cover all the taxes

4- The following transportation methods are air transportation. The reference time to reach the United States is 15-25 days, and the time to reach Europe is 20-30 days. For other countries and regions, please contact customer service.

5- 60 days to return and exchange the goods.
 China Post Free shipping reference time (natural day)
North America
Transportation

 

Nature day
United States
13-25 days

FREESHIPPING

Canada
13-25 days

FREESHIPPING

Mexico
18-35 days

FREESHIPPING

Europe
Transportation Nature Day

 

UK, France, Germany, Italy, Spain, Netherlands, Austria, Belgium, Bulgaria, Switzerland, Czech, Denmark, Estonia, Finland, Greece, Croatia, Hungary, Ireland, Lithuania, Luxembourg, Latvia, Malta, Poland, Portugal, Romania, Sweden, Slovenia, Slovakia, Ukraine

20-30 days

FREESHIPPING

Oceania
Transportation Nature Day

Australia, New Zealand

20-30 days

FREESHIPPING

Asia (Middle East)
Transportation Nature Day

UAE

20-30 days

FREESHIPPING




Cyprus

20-30 days

FREESHIPPING




Israel

20-30 days

FREESHIPPING




Saudi Arabia

20-30 days

FREESHIPPING




Turkey

20-30 days

FREESHIPPING



Africa
Transportation Nature Day

South Africa                                                                     

18-35 days

FREESHIPPING
 We provide a faster shipping method, of course, this requires you to pay.
 Country

DHL, UPS, FedEx 

Australia, New Zealand

29.99$ 

7-15 natural day

United States, Mexico, Canada

29.99$

8-20 natural day

Jersey, Croatia, Lithuania, Latvia, Luxembourg, Czech Republic, Slovenia, Liechtenstein, Sweden, Switzerland, Monaco, Austria, Andorra, Malta, Portugal, Greenland, Norway, Slovakia, Cyprus, Hungary, Canary Islands, Italy, Guernsey, Spain, Greece, Bulgaria, India, United Kingdom, Netherlands, Belgium, Iceland, Gibraltar, Poland, Ireland, Denmark, Germany, Estonia, France, Finland

29.99$

4-11 natural day

Egypt, Israel, Jordan, Bahrain, Afghanistan, Turkey, Oman, UAE, Saudi Arabia, Libya, Kuwait, Qatar 

29.99$

6-14 natural day