Please contact customer service before purchasing to determine the wiring harness.
Brand

Binize

System 

Android 10

Car Model

2003-2007 Honda Accord

Touch Screen

Yes

Resolution

1024*600 PX

Processor

Quad-core A7 processor 1300MHz CPU

Storage

2G RAM + 32G ROM

Built-in Apple Car Radios

Yes 

Built-in Android Auto

Yes

External MIC

Yes

DSP Settings

Yes

AHD Backup Camera Input

Yes

FM/AM with RDS

Yes

HD Video

Yes

Steering Wheel Controls

Yes

Built-in MIC

Yes

Built-in WIFI

Yes

Offline Map

Support

Online Map




Waze / Navfree / Google Map etc.




Hand Control

Yes

Front Camera Input

Yes,Support

Bluetooth

Yes,

S

upport
Remarks: Please contact customer service to confirm the correct wiring harness before purchasing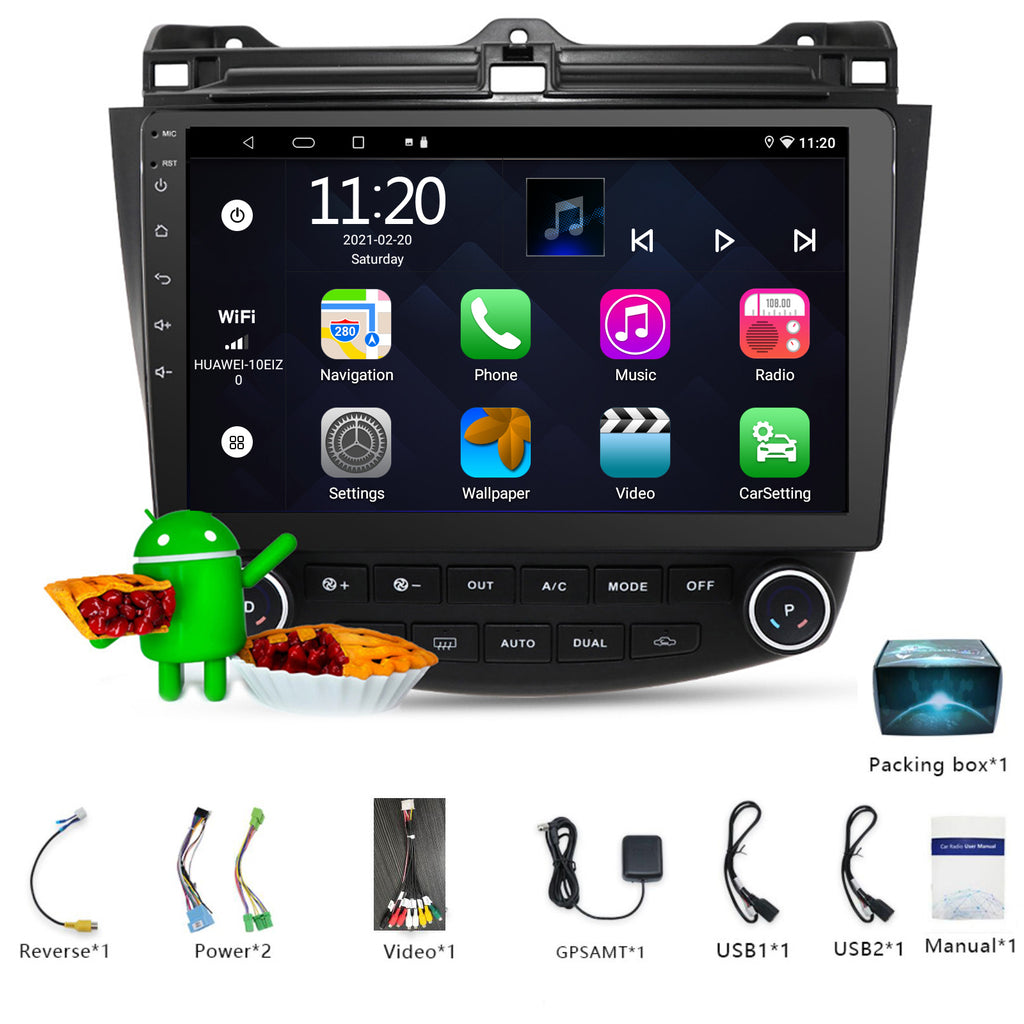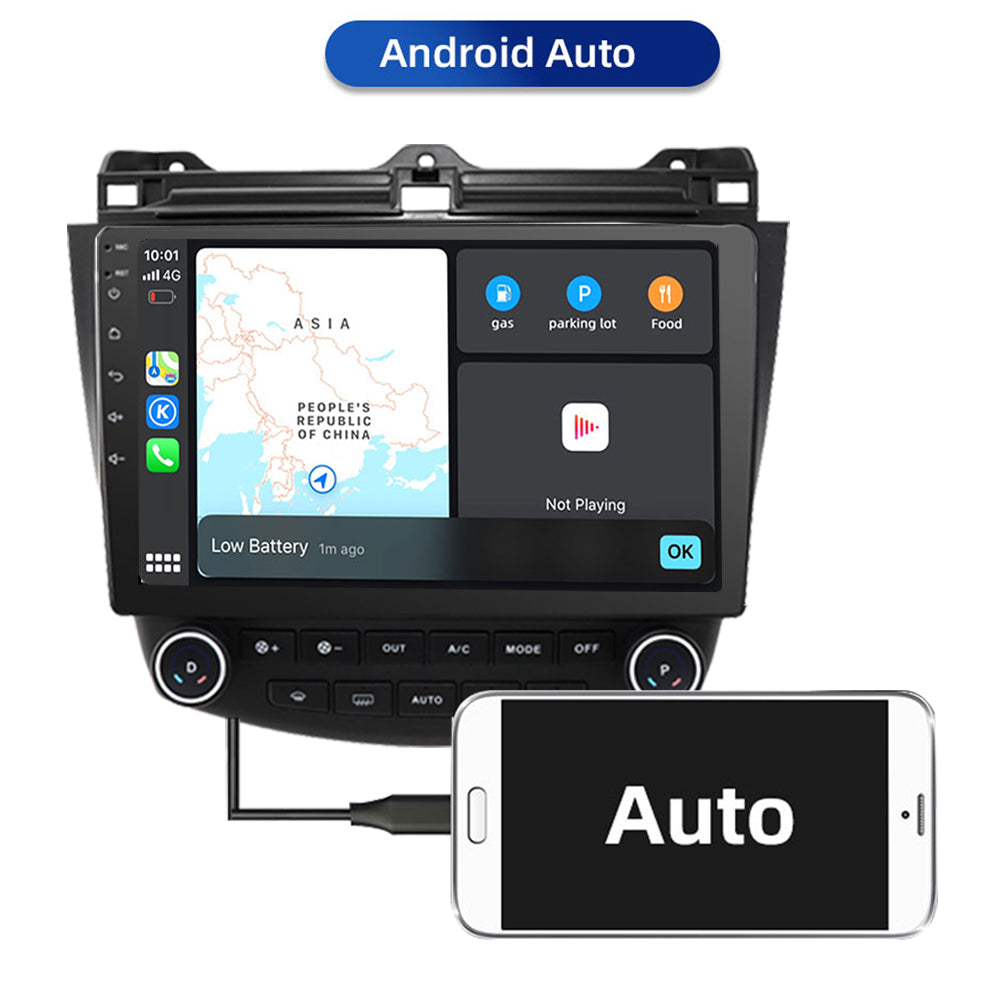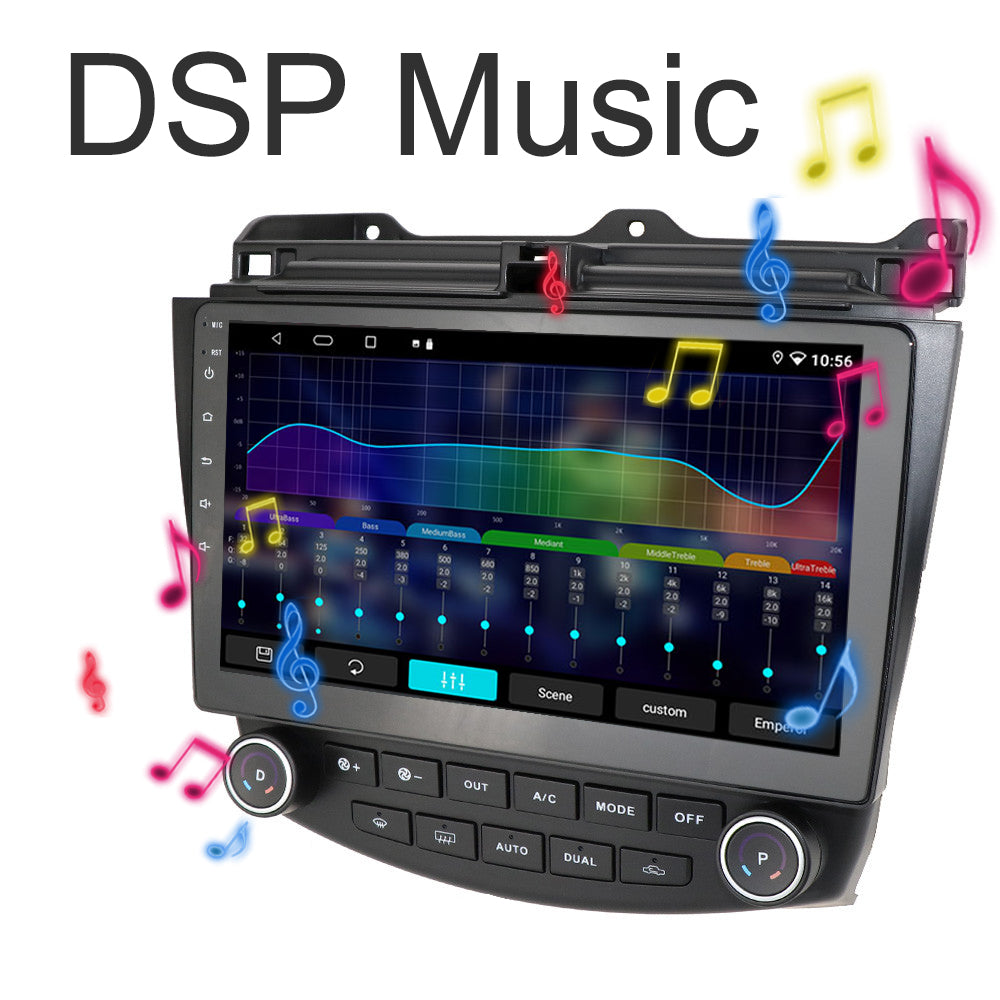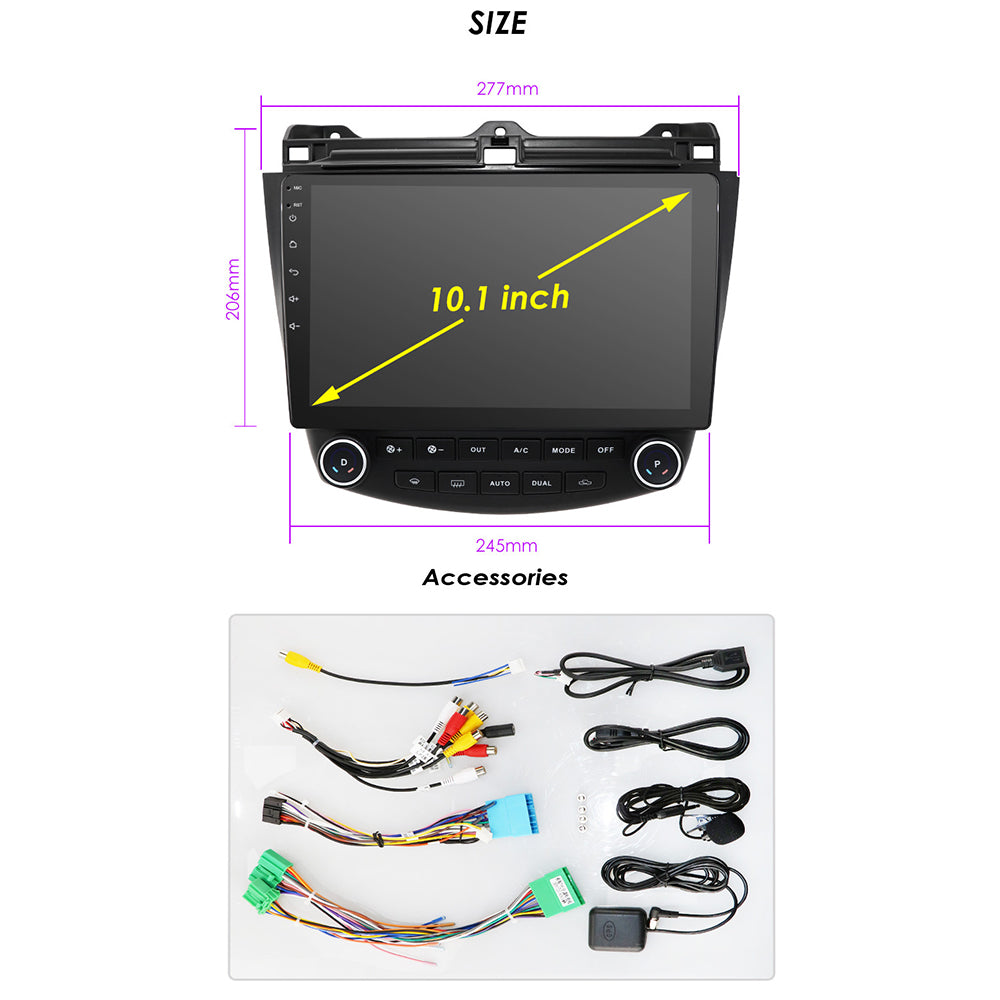 FAQ
Q: Does it support the 2012 honda accord radio AC?
Please note that the Accord we sold only support 2003-2007, and for the AC, need to set the car info like this:
1.click car setting
2.click factory setting(password 8888)
3.click protocol setting
4.choose  Ruishengwei or Daojun or changyuantong
5.click Honda
6.click  Accord 7
7.click  Save
8.Restart your car
Q:Does your guy's radio include the universal car stereo remote?
Please note that this stereo doesn't support the remote control.
Q:How does these car stereo navigation systems work?
 Please note that the built-in map is the online map, if you need the offline map, need to download it by yourself in advance.
   Cars are no longer bought just for their engines and how many they seat. Nowadays, there are some room for the infotainment demands on every car buyer's agenda. Apple car radios supply users with everything on their iPhones now at the tips of their fingers in the dash.
With the ability to do everything your mobile phone can, Apple car radios will allow the driver to use apps safely, call their friends and family, and integrate your favorite music, podcasts, and shows into your car. And it is just the start of what your car is capable of with an apple car play head unit.
There is a wide variety of models from all over the automotive spectrum that is compatible with Apple CarPlay. However, most of the old fashion cars don't support CarPlay. On this occasion, Apple car radios become the majority's choice. People can realize the CarPlay function by installing an aftermarket head unit. 

About Binize Android 10 for 2003-2007 Honda Accord

Everything you need
If it's not convenient to use your phone in the car, the Binize Android 10 double din head unit for the 2003-2007 Honda Accord will change the way you use your phone in the car. It can also improve your driving safety, so you don't have to be distracted by your phone when you're driving. These Apple car radios have a built-in AM radio, two different USB ports, and you won't be short of media sources. The Bluetooth connection extends the options with music streaming and hands-free calling. For the complete mobile experience, the Apple car radios map your most-used apps to the 10.2" touchscreen head unit for easy access to music apps, navigation apps, and more.

Best budget Apple Carplay and Android Auto head unit
Binize Apple car radios embed Apple CarPlay and Android Auto into its very competitively priced carplay & android head unit, so iPhone and Android users can benefit from a large touch screen of their favorite smartphone features. This Binize Android 10 supports wired/wireless apple carplay, and wireless Android auto.

Support Backup Camera and Front Camera
Binize Apple car radios provide two video inputs, the front camera to see what's in front of the car, and the backup camera to see how the car is reversing. Adjustable reversing track lines can help you more accurately grasp the parking situation so that the reversing becomes easy and convenient.

Capacitive Touchscreen
Some old-fashion car stereos still use resistive touch screens. This requires you to press hard on the screen for a long time to get a response. Capacitive touch screens (like the ones on your phone) are much better than resistive touch screens. Now resistive touch screen has become a necessary condition for Apple car radios. 

Steering wheel Controls Support
Nowadays, most modern cars come with steering-wheel-mounted controls. If your Apple car radios do not support steering wheel control, then you will undoubtedly lose a lot of convenience from that. Binize Apple car radios support analog signal steering wheel control, you need to order an extra Canbus decoder from your local car shop if your has digital signal steering wheel control.

Bluetooth Phone Connection
Every apple carplay head unit can be paired with a mobile phone via Bluetooth. Some better Apple car radios can be paired with two phones at the same time. If you want to use wireless apple carplay or android auto functions, the first step is to connect the Apple car radios to your phone's Bluetooth.

Playback and Audio 
No CD mechanism. Stream your music digitally via Apple car radios.
MP3/FLAC/WMA/AAC music playback via USB
EQ Presets

Navigation Feature
Built-in Google Maps, and support Offline Map App in Apple car radios
Please Note:
1- We provide free shipping services.
2-On the day you submit the order, we will send out your goods, you can check the logistics update information after 5 nature days.
Transport process
1-3 nature days for processing
Use China Post to send goods (free shipping), you can also choose to pay the postage and choose faster air freight, such as DHL, UPS, FEDEX.
Take the United States as an example. The last mile will use USPS to deliver the goods to your address. According to local conditions in other countries, international freight companies will choose the best quality method

3- If there are taxes and fees incurred during the contractor's process, It's the customer's responsibility to cover all the taxes

4- The following transportation methods are air transportation. The reference time to reach the United States is 15-25 days, and the time to reach Europe is 20-30 days. For other countries and regions, please contact customer service.

5- 60 days to return and exchange the goods.
 China Post Free shipping reference time (natural day)
North America
Transportation

 

Nature day
United States
13-25 days

FREESHIPPING

Canada
13-25 days

FREESHIPPING

Mexico
18-35 days

FREESHIPPING

Europe
Transportation Nature Day

 

UK, France, Germany, Italy, Spain, Netherlands, Austria, Belgium, Bulgaria, Switzerland, Czech, Denmark, Estonia, Finland, Greece, Croatia, Hungary, Ireland, Lithuania, Luxembourg, Latvia, Malta, Poland, Portugal, Romania, Sweden, Slovenia, Slovakia, Ukraine

20-30 days

FREESHIPPING

Oceania
Transportation Nature Day

Australia, New Zealand

20-30 days

FREESHIPPING

Asia (Middle East)
Transportation Nature Day

UAE

20-30 days

FREESHIPPING




Cyprus

20-30 days

FREESHIPPING




Israel

20-30 days

FREESHIPPING




Saudi Arabia

20-30 days

FREESHIPPING




Turkey

20-30 days

FREESHIPPING



Africa
Transportation Nature Day

South Africa                                                                     

18-35 days

FREESHIPPING
 We provide a faster shipping method, of course, this requires you to pay.
 Country

DHL, UPS, FedEx 

Australia, New Zealand

29.99$ 

7-15 natural day

United States, Mexico, Canada

29.99$

8-20 natural day

Jersey, Croatia, Lithuania, Latvia, Luxembourg, Czech Republic, Slovenia, Liechtenstein, Sweden, Switzerland, Monaco, Austria, Andorra, Malta, Portugal, Greenland, Norway, Slovakia, Cyprus, Hungary, Canary Islands, Italy, Guernsey, Spain, Greece, Bulgaria, India, United Kingdom, Netherlands, Belgium, Iceland, Gibraltar, Poland, Ireland, Denmark, Germany, Estonia, France, Finland

29.99$

4-11 natural day

Egypt, Israel, Jordan, Bahrain, Afghanistan, Turkey, Oman, UAE, Saudi Arabia, Libya, Kuwait, Qatar 

29.99$

6-14 natural day